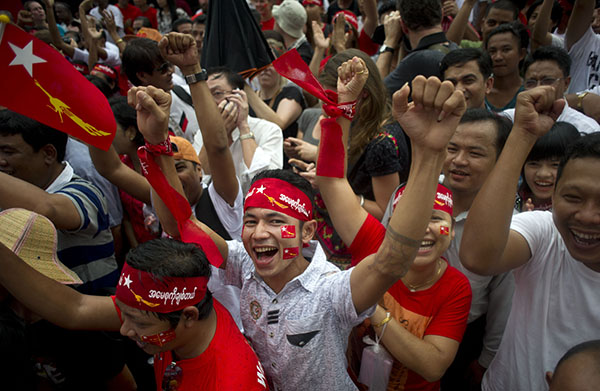 Supporters of Myanmar opposition leader Aung San Suu Kyi's party cheer as they watch general election results outside the party headquarters in Yangon on Monday. Ye Aung Thu / AFP
Beijing welcomes Myanmar's general election and will support the country's agenda to achieve national stability and long-term development, the Chinese Foreign Ministry said on Monday.
The remarks came as Myanmar opposition leader Aung San Suu Kyi's National League for Democracy was expected to win the most parliamentary seats in the election, held on Sunday.
Foreign Ministry spokesman Hong Lei said, "China remains committed to offering help in Myanmar's election work, according to its needs."
Sun Guoxiang, a Chinese special envoy in charge of Asian affairs who observed the election in Mandalay and Shan state at the invitation of Myanmar, told local reporters the friendly relationship between China and Myanmar will be strengthened.
Sun said he believes that no matter how the political situation in Myanmar changes, it will not affect ties with China.
Ren Yuanzhe, a leading researcher of Asia-Pacific studies at China Foreign Affairs University said, "I believe the two countries will continue to maintain their friendly relationship after the establishment of a new government.
"Meanwhile, both nations should take appropriate action to solve problems between them. They should rely on close cooperation to solve problems."
On Monday, Aung San Suu Kyi's party was confident of heading to a landslide victory. She told supporters not to provoke defeated rivals who mostly represented the former junta.
AP contributed to this story.
wangxu@chinadaily.com.cn