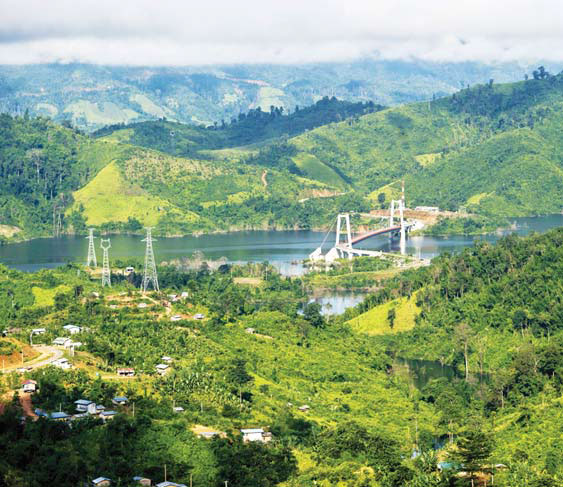 Electricity pylons and a bridge in Myanmar's eastern Shan state. Chinese investment, as part of the Belt and Road Initiative, is improving infrastructure in the country, including roads, rail, energy and telecommunications. Although the road network has expanded greatly in recent years, road density in Myanmar remains extremely low. AFP
Chinese infrastructure projects playing key role in bolstering economic and social development
Location is everything. This adage can apply to a country as much as to anything else.
Myanmar is a case in point. Its close physical proximity to Kunming, the capital of China's southwestern Yunnan province, may prove to be a major boon, as it is likely to bring massive infrastructure development to the Southeast Asian country.
China is making huge investments in infrastructure in Kunming, in a bid to turn the city into the gateway to Southeast Asia. Moreover, the projects that have been initiated to date are part of China's grand plan to connect with other economies via the Belt and Road Initiative.
As part of the plan, Beijing announced that it will pump $900 billion into various projects covering road, rail, coal, gas, mining, electricity and telecommunications into the countries along the route, with funding from the newly created Asian Infrastructure Investment Bank and the Silk Road Fund.
Myanmar will benefit enormously from the Belt and Road plan, which is expected to cover the Bay of Bengal, as the trade routes pass through Kachin and Shan states, right down into central Myanmar, as they snake their way toward the Mediterranean.
Improving transport infrastructure helps boost economic growth through increased trade, says Emily Dabbs, an economist with the Sydney office of Moody's Analytics.
"And the economic growth will fulfill the aspirations of the Myanmar people, as they get stable jobs and good prospects," she says.
The city of Mandalay is also a major focal point in the Bangladesh-China-India-Myanmar economic corridor, which is now part of the Belt and Road Initiative. The corridor links Kolkata in eastern India with Kunming.
Myanmar should cooperate with China and capitalize on the next phase of growth focusing on increased investment in infrastructure in the region, says Albert Guangzhou Hu, associate professor at the National University of Singapore.
The latest of China's infrastructure projects in Myanmar consists of oil and gas pipelines crisscrossing Myanmar, starting from a new terminus at Kyaukphyu - situated just below Sittwe, the capital of the western Rakhine state - up to Mandalay and on to the Chinese border town of Ruili and then Kunming.
Significantly, the new oil pipeline bypasses the Malacca Straits, a narrow channel that connects the Indian Ocean with the Pacific.
There are also proposed projects comprising a port at the Kyaukphyu Special Economic Zone in Rakhine state and a 1,200-kilometer-long railway line linking Kunming and Kyaukphyu Port, with an expressway running parallel to the railway.
Once these projects are completed, "Myanmar will be in a good position to import and export goods at a lower cost, as transportation costs will be lower due to increased efficiencies in connectivity", says Mark Rathbone, capital projects and infrastructure leader for Asia-Pacific at Pricewaterhouse Coopers in Singapore.
Rathbone says Myanmar's geographical proximity to Kunming could also contribute to its shipping business, as the Yunnan capital could use Myanmar's existing ports to transport goods to Africa and the Middle East.
Myanmar currently has nine ports along its western and southeastern coasts. With the exception of the country's principal port in Yangon, the rest are small coastal ports with limited handling capabilities.
If Kunming uses Myanmar ports, "it could lead to capacity expansion and creation of new ports. This is a win-win situation for both the countries", says Rathbone.
Over the years China has entrenched itself in various business sectors in Myanmar and learned the nuances of doing business in the country. Beijing was Myanmar's largest investor during its years of international seclusion, supporting strategic infrastructure projects such as oil and gas pipelines, ports and dams.
Between 1988 and 2013, China accounted for a whopping 42 percent of the $33.67 billion foreign direct investment that flowed into Myanmar. China remains the largest foreign investor in Myanmar with over 26 percent of FDI.
During Chinese Premier Li Keqiang's visit to Myanmar in November last year, the two countries signed deals worth $7.8 billion, covering energy, telecommunications and infrastructure.
China sees Myanmar as a key partner in the Belt and Road Initiative, says Rajiv Biswas, Asia-Pacific chief economist at consultancy firm IHS. "Infrastructure development will play a vital role in accelerating Myanmar's industrial development."
The country's immense infrastructure deficiency is the result of decades of underinvestment. Its long period of isolation that began in the 1980s, and the economic sanctions that accompanied it, seriously hampered its overall development.
In nearly three decades, Myanmar lost most access to international investment and assistance, including from the Asian Development Bank and World Bank.
Consequently, Myanmar's transport sector has suffered from a lack of international expertise, experience and investment, and a loss of capacity in the agencies that are tasked with managing and operating the sector. This applies broadly to transport subsectors including roads, railways, ports, inland waterways and civil aviation.
The country must step up efforts to narrow infrastructure deficits if it is to achieve sustainable economic growth, said the Asian Development Bank in a report published last year on the country's growth prospects.
The report, Myanmar: Unlocking the Potential, said full realization of the economy's potential could push annual average GDP growth to 9.5 percent by 2030, up from its pre-reform baseline of 4.8 percent. Growth of this magnitude could raise GDP per capita to nearly $5,000 by 2030, up from about $900 today.