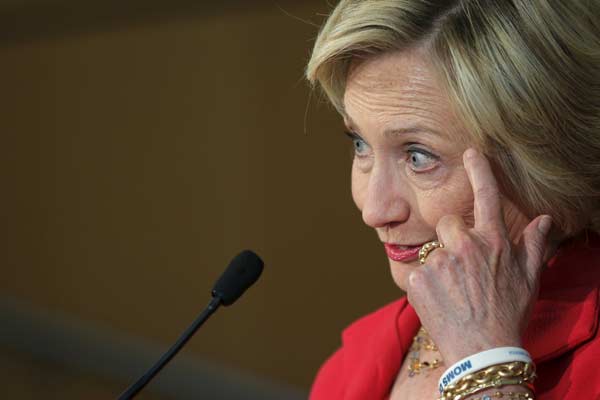 US Democratic presidential candidate Hillary Clinton listens to a reporter's question during a news conference in Portsmouth, New Hampshire September 5, 2015. [Photo/Agencies]
WASHINGTON -- Hillary Clinton on Tuesday acknowledged that her use of a private email system while helming the US State Department was a "mistake", adding that she is "sorry" for it.
"I do think I could have and should have done a better job answering questions earlier. I really didn't perhaps appreciate the need to do that," Clinton told ABC News on Tuesday, referring to an early strategy of her and her campaign to either dismiss the controversy or joke about it.
While Clinton continued to stress that her use of a private email account and server as the US top diplomat was "allowed" and "above board", she showed her greatest contrition Tuesday since the issues started earlier this year.
"But in retrospect, as I look at it now, even though it was allowed, I should have used two accounts," said Clinton. "That was a mistake. I'm sorry about that. I take responsibility."
The remarks came only one day after Clinton refused to apologize for her use of a private email account and server, saying what she did was allowed.
In an earlier interview with NBC News on Friday, Clinton only apologized for causing confusion among the voters.
For weeks, the Clinton camp has insisted that the issues surrounding her email are hyped by media and haven't affected the dynamic of her campaign machine.
However, a number of national polls showed that as Clinton fails to end controversy around her exclusive use of her private email account and server from 2009 to 2013, an increasing number of voters start to question her trustworthiness and honesty.
A poll by Monmouth University showed Tuesday that Clinton's support rate dropped 10 points in the past month.