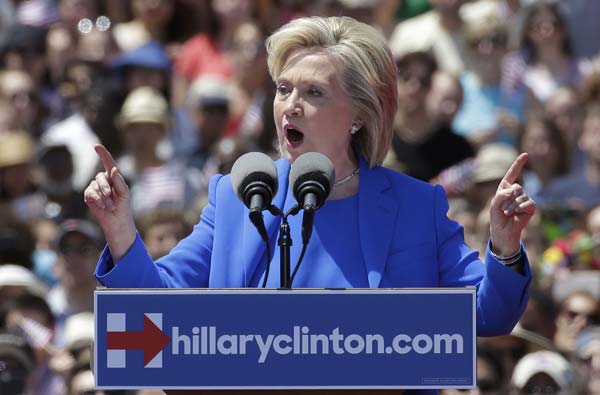 US Democratic presidential candidate Hillary Clinton delivers her "official launch speech" at a campaign kick off rally in Franklin D. Roosevelt Four Freedoms Park on Roosevelt Island in New York City, June 13, 2015.[Photo/Agencies]
NEW YORK - Democratic front-runner Hillary Clinton pledged on Saturday to help working Americans reap the rewards of their hard work, as she staged the first major rally of her 2016 White House campaign.
Casting herself as a fighter for ordinary Americans, Clinton promised to "make the economy work for everyday Americans, not just those at the top."
She told supporters on New York's Roosevelt Island that working people are asking why wealth is reserved for chief executives and hedge fund managers.
"You have to wonder, when does my hard work pay off? When does my family get ahead? When? I say now," she said.
The big outdoor rally marked a change in gear for Clinton. The former secretary of state launched her election campaign in April and has so far held small events with selected participants, focused on states such as Iowa that hold early contests in the party nominating process.
Clinton, who is running to be America's first woman president, trumpeted her record on women's rights and talked about her mother's tough upbringing.
Clinton is keen to craft a personal narrative that does not focus heavily on her many years in Washington as a former first lady, former senator and former secretary of state. She highlighted the lessons she learned from her mother, Dorothy Rodham, who was abandoned as a child.
Clinton pledged to establish a national infrastructure bank financed by bonds, and rewrite the tax code to reward hard work.