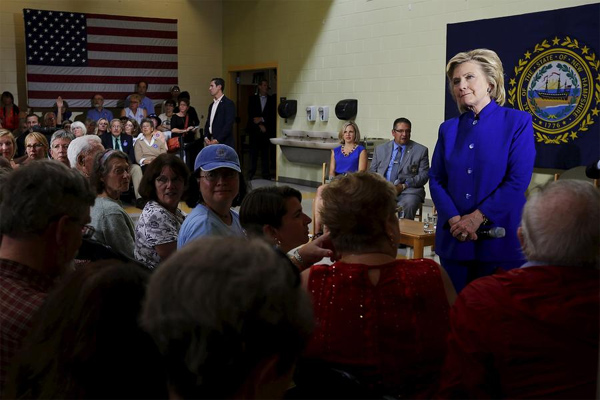 US Democratic presidential candidate Hillary Clinton listens to a question from the audience during a community forum about substance abuse in Keene, New Hampshire August 11, 2015. [Photo/Agencies]
WASHINGTON - Hillary Rodham Clinton has agreed to relinquish the personal email server she used while serving as the top U.S. diplomat, as part of an investigation into an issue that threatens to remain a significant distraction for her presidential campaign.
Clinton, former secretary of state and now the leading Democratic presidential candidate, has tried to focus her campaign on issues like education and economic recovery and her policy prescriptions aimed at middle class voters. Instead she must answer constant questions surrounding her decision to run her State Department email correspondence through an unsecured system set up at her suburban New York home.
Polls still show Clinton with a commanding lead over her Democratic presidential rivals. But the issue of her use of a personal email server has given her Republican opponents an opportunity to rekindle questions about whether she is trustworthy and they hope that this controversy will weaken her as a potential candidate ahead of the November 2016 election.
An Associated Press-GfK poll last month showed that standing is falling among Democrats, and voters view her as less decisive and inspiring than when she launched her presidential campaign just three months ago. Just 39 percent of all Americans have a favorable view of Clinton, compared to nearly half who say they have a negative opinion of her. That's an 8-point increase in her unfavorable rating from an AP-GfK poll conducted at the end of April.
Clinton is also facing the unexpected popularity of Sen. Bernie Sanders, a self-described socialist who is also vying for the Democratic nomination and remains a longshot for the White House, but who has shown a steadily improving performance in polls and attracted massive crowds to his rallies.
Federal investigators began looking into the security of Clinton's email setup after the inspector general of the U.S. intelligence agencies said that classified information may have passed through the system. There is no evidence she used encryption to prevent prying eyes from accessing the emails or her personal server.
Clinton campaign spokesman Nick Merrill said Tuesday that she has ``pledged to cooperate with the government's security inquiry, and if there are more questions, we will continue to address them.''
It's not clear if the device will yield any information _ Clinton's attorney said in March that no emails from the main personal address she used while secretary of state still ``reside on the server or on back-up systems associated with the server.''
Clinton had to this point refused demands from Republican critics to turn over the server to a third party, with attorney David Kendall telling the House of Representatives committee investigating the deadly 2012 attacks that killed four Americans in Benghazi, Libya, that ``there is no basis to support the proposed third-party review of the server.''
Republicans jumped on Tuesday's decision to change course, as well as the additional disclosure that two emails that traversed Clinton's personal system were subsequently given one of the government's highest classification ratings.
``All this means is that Hillary Clinton, in the face of FBI scrutiny, has decided she has run out of options,'' Republican National Committee Chairman Reince Priebus said in a statement. ``She knows she did something wrong and has run out of ways to cover it up.''
The news about her email server overshadowed her speech this week, in which she unveiled an ambitious $350 billion plan to address higher education costs, in part by encouraging more state and federal spending, making it easier for students to refinance loans and capping loan payments based on their incomes.
In March, Clinton said she exchanged about 60,000 emails in her four years in the Obama administration, about half of which were personal and were discarded. She turned over the other half to the State Department last December.
The department is reviewing those emails and has begun the process of releasing them to the public.
Also Tuesday, Kendall gave to the Justice Department three thumb drives containing copies of work-related emails sent to and from her personal email addresses via her private server.
Those two emails were among four that had previously been determined by the inspector general of the intelligence community to have been classified at the time they were sent. The State Department disputes that the emails were classified at that time.
The inspector general for the intelligence community had told Congress that potentially hundreds of classified emails are among the cache that Clinton provided to the State Department.
Clinton has defended her use of the server, saying she used it as a matter of convenience to limit the number of electronic devices she had to carry.