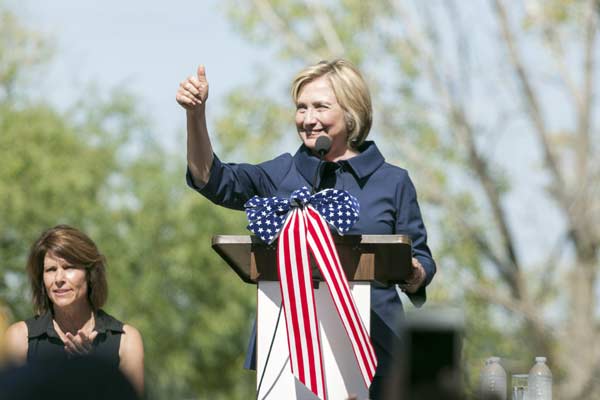 U.S. Democratic presidential candidate Hillary Clinton speaks during a campaign stop at the Quad City Federation of Labor's Salute to Labor Chicken Fry in Hampton, Illinois September 7, 2015. [Photo/Agencies]
WASHINGTON -- Hillary Clinton said on Monday the controversy around her use of a private email system while serving as the top US diplomat did not affect her campaign.
"It's a distraction, certainly," Clinton said in an interview during a Labor Day campaign in Iowa.
"But it hasn't in any way affected the plan for our campaign, the efforts we're making to organize here in Iowa and elsewhere in the country."
As the Clinton camp fails to end controversy around the Clinton' s exclusive use of her private email account and server from 2009 to 2013, a pair of NBC News/Marist polls released Sunday showed that Clinton's favorability rating among voters in key early-voting states dipped.
According to the polls, Clinton trails Vermont Senator Bernie Sanders by nine points in New Hampshire, and her lead over Sanders in Iowa has shrunk from 24 points in July to 11 points.
A Gallup poll on Friday also showed that Clinton's favorability rating has dropped to an all-time low.
Still, Clinton downplayed the fallout of the email controversy which was taking a heavy toll on the perception of her trustworthiness and honesty among voters.
"I still feel very confident about the organization and the message that my campaign is putting out," Clinton said Monday.
Meanwhile, for the second time within four days, Clinton said she did not need to apologize for her exclusive use of the private email account and server.
"What I did was allowed. It was allowed by the State Department.