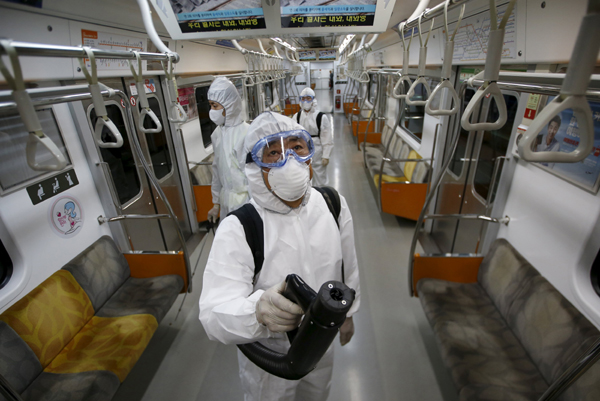 Workers in full protective gear disinfect the interior of a subway train at a Seoul Metro's railway vehicle base in Goyang, South Korea, June 9, 2015. [Photo/Agencies]
SEOUL - South Korea reported 13 more infections with the Middle East Respiratory Syndrome (MERS), raising the total number to 108 while two deaths were added, the health ministry said on Wednesday.
Among the new cases, 10 people contracted the virus at the Samsung Medical Center in Seoul, according to the Ministry of Health and Welfare.
The total case confirmed positive for the MERS at the Samsung hospital surged to 47, followed by 36 cases in the Pyeongtaek St. Mary's Hospital, 60 km south of Seoul, where the first cases was identified on May 20.
The other three cases came from the Konyang University Hospital and the Daecheong Hospital in Daejeon, a city in central South Korea, and the Hallym University Medical Center in Hwaseong, Gyeonggi Province respectively.
The death toll increased to nine as two more deaths, including the 76th and 90th patients, were added.
The authorities said on Tuesday that it will test all pneumonia patients in Seoul, the Gyeonggi Province, Daejeon and Asan city in South Chungcheong Province to detect potential carriers of the MERS virus.