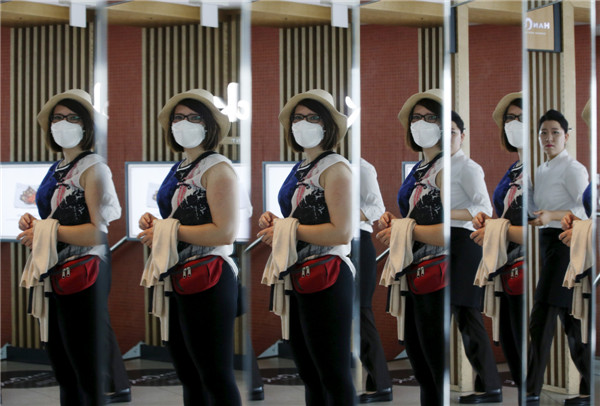 A tourist wearing a mask to prevent contracting Middle East Respiratory Syndrome (MERS), is reflected on mirrors in Seoul, South Korea, June 8, 2015. [Photo/Agencies]
SEOUL - South Korea's health ministry said on Tuesday there were eight new cases of Middle East Respiratory Syndrome (MERS), bringing the total to 95 but representing a sharp fall in the number of daily new cases from 23 reported a day earlier.
The ministry also said a patient infected with the MERS virus has died, becoming the seventh fatality in an outbreak that began in May.
Hong Kong has upgraded its response to the outbreak in South Korea, where concerns are growing about the economic impact of the disease, to "serious".
South Korean President Park Geun-hye has called for an all-out national effort to eradicate the outbreak, which has been spreading since a businessman brought it home from a Middle East trip last month.
South Korea has the second highest number of infections after Saudi Arabia, according to data from the European Centre for Disease Prevention and Control.
The seventh reported death in South Korea was a 68-year-old woman who had an existing heart ailment and had been in the emergency room of a Seoul hospital, to where a number of previous confirmed cases had been traced.
Three of the cases newly reported on Tuesday came from the same hospital emergency room, which has 37 out of the total of 95 cases, the ministry said.
All 95 cases of infection took place in health care facilities, according to the ministry.
About 2,500 people, who may have had contact with MERS patients, have been put under quarantine, some in hospitals but most at home. Authorities have said they are using mobile phones to track people who violate quarantine.
South Korea's new cases bring the total of MERS cases globally to 1,244, based on World Health Organization (WHO) data, with at least 446 related deaths.