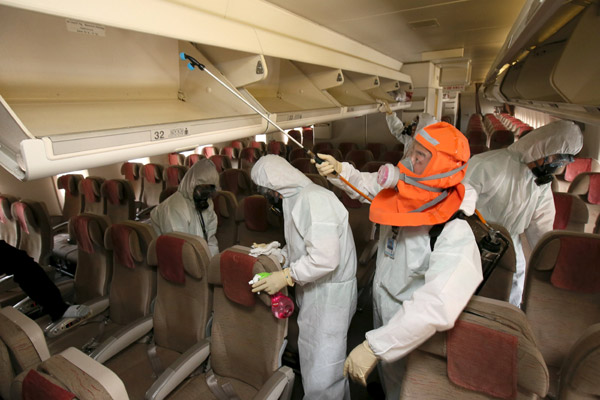 Employees from Asiana Airlines disinfect the interior of its airplane in Incheon, South Korea, June 4, 2015. [Photo/Agencies]
SEOUL - One doctor in South Korea, infected with the deadly Middle East Respiratory Syndrome (MERS), had contacts with thousands of unspecified individuals in its capital Seoul, boosting fears for an exponential increase in contagion.
The Seoul metropolitan government said in a statement on Thursday night that a 38-year-old doctor at a hospital in Seoul had contacts with thousands of people for three days until he was quarantined on May 31.
The doctor, who treated the 14th MERS infectee on May 27, began to show a slight symptom of the viral disease, like coughing, on May 29 when he treated patients though he was required to stay at home for self-quarantine.
On May 30 when he had a mild fever, he participated in a symposium for three hours from 9 am at his hospital and went outdoors for dinner with his families at a restaurant before joining an event attended by 1,565 people.
Though he had high fever, coughing and phlegm on May 31, he joined the symposium at his hospital for an hour and visited a fast food restaurant before going home.
From 9:40 pm on May 31, the doctor began to be put under quarantine at a hospital. A day later, he was tested positive for the MERS.
The number of infection case is feared to increase exponentially as the doctor strode down the street without any hindrance though he was put under self-quarantine.
It indicated a blunder in the government's management of those under self-quarantine. The number of those put under self or institutional quarantine jumped from 129 on May 30 to 1,667 on June 4. Among them, 1,503 people were on the self-isolation list, requiring them to stay at home during the incubation period of two weeks.
If the 1,565 people alone, who participated in the May 30 event, are added to the list, the quarantine number will top 3,200. Given the limited number of medical staffs, the management of potential MERS infectees will be harder than before.