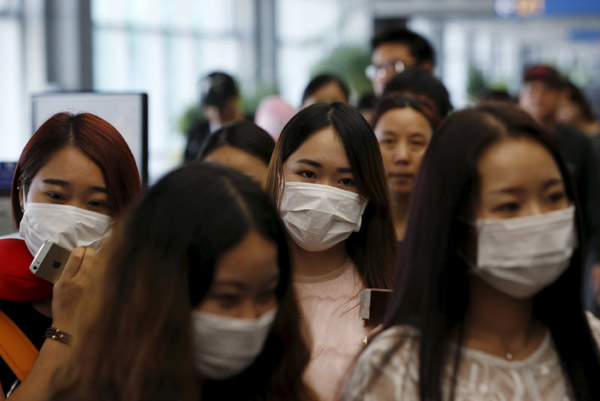 Passengers wearing masks to prevent contracting Middle East Respiratory Syndrome (MERS) walk past a thermal imaging camera (unseen) at Incheon International Airport in Incheon, South Korea, June 2, 2015. [Photo/Agencies]
SEOUL - More than 200 schools in South Korea have suspended classes Wednesday due to fears for contagion of young students from the deadly Middle East Respiratory Syndrome (MERS).
As of Wednesday, 209 schools have suspended or closed classes nationwide to prevent the MERS infection of students, Deputy Prime Minister for Social Affairs and Education Minister Hwang Woo-yea said at a meeting with school superintendents.
"Much stronger prevention should apply to schools than society, " Hwang said, adding that preventive measures should actively be taken in schools until public safety is secured by completing an epidemiological survey.
Almost 90 percent of closed schools came from the Gyeonggi Province, where the capital Seoul is geographically located in the center.
Lee Jae-jung, the province's superintendent, said at the meeting that 183 schools have been closed or suspended in the province, considered as more dangerous from the MERS contagion than other areas.
The suspended schools in the province included 58 kindergartens, 105 elementary schools, 15 middle schools and two high schools as well as three special-education schools.