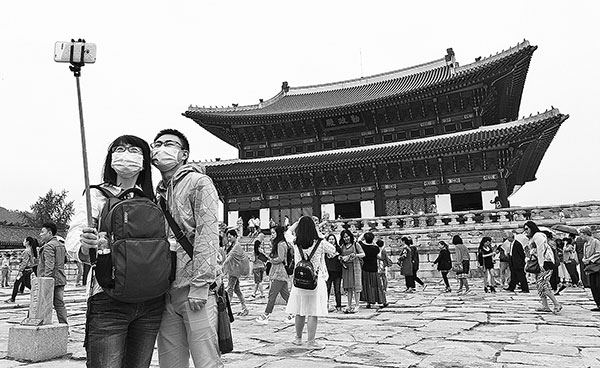 A couple wearing masks as a precaution against the MERS (Middle East respiratory syndrome) virus as they take a "selfie" with their smartphone at Gyeongbok Palace in Seoul, South Korea, on Friday. The country's tourism has felt the effect of the epidemic since the first case was confirmed in May. [Photo/AP]
As the viral infection kills people in South Korea, Chinese tourists start to worry about their trips to that country, Yang Feiyue reports.
The outbreak of the deadly Middle East respiratory syndrome in South Korea-the largest such spread of the viral infection outside of Saudi Arabia-is raising concerns among Chinese tourists.
Some have canceled their planned visits to South Korea following media reports that the infection had killed at least seven people in that country recently.
Beijing native Zhang Haoran, who teaches piano at a local school and had earlier sought to spend some of his upcoming summer vacation there, is among those reacting to the news.
"I don't want to take any chances for myself and others," Zhang tells China Daily of his decision to halt his group trip.
The spread of the disease in South Korea has triggered public anxiety over health and economy, and is expected to affect the traditional summertime peak tourist season.
Around 2,500 Chinese tourists canceled their trips to South Korea this month, after the first MERS case was confirmed there in late May, according to Korea Tourism Organization. Korean travel agencies doing business with Chinese tourists are reporting a fall in tourist interest, South Korean media report.
But major Chinese travel agencies, including online giant Ctrip and Beijing Utour International Travel Service, say they have yet to note significant cancellations of their bookings.
Some Korean travel agencies also worry that if the current situation worsens, Chinese tourists will likely change their travel plans in favor of Japan.
About 2,900 people were quarantined in South Korea until Tuesday, according to the Korean Ministry of Health and Welfare.