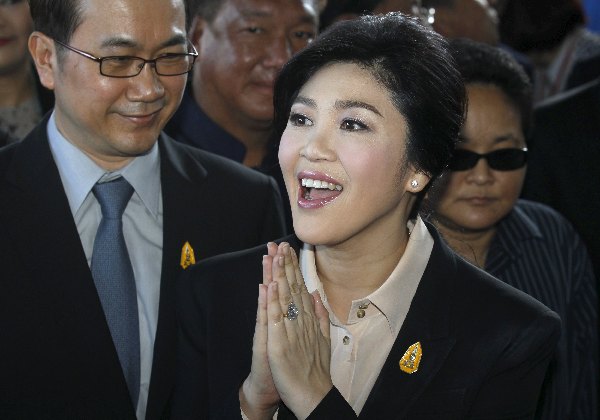 Ousted former Thai Prime Minister Yingluck Shinawatra gestures as she arrives at the Supreme court in Bangkok, Thailand, May 19, 2015. [Photo/Agencies]
BANGKOK - Former Thai Prime Minister Yingluck Shinawatra on Tuesday denied all charges in the first hearing of a case in which she is accused of malfeasance in a controversial rice-pledging scheme.
Yingluck appeared at the Supreme Court's Criminal Division for Holders of Political Positions in the morning, with a number of people waiting outside to give her moral support.
Yingluck is charged with dereliction of duty and abuse of authority under Section 157 of the Criminal Code and Section 123/1 of the 1999 Counter Corruption Act. She has been accused of failing to stop corruption in the rice program and incurring up to $20 billion in operational losses.
The case was filed by the Office of the Attorney- General, and if found guilty, Yingluck could face a maximum jail term of 10 years.
During the hearing, Yingluck listened to the charges and denied all of them.
The court approved the request of Yingluck's lawyers to submit a complete statement prior to July 3, and granted bail. But Yingluck is not allowed to leave the country during the trial.
More hearings will be organized on July 21 and 28 to question witnesses and examine evidence provided by both the prosecutor and defendant. Yingluck is required to attend the hearings in person or provide reasons for the court to approve if she cannot.