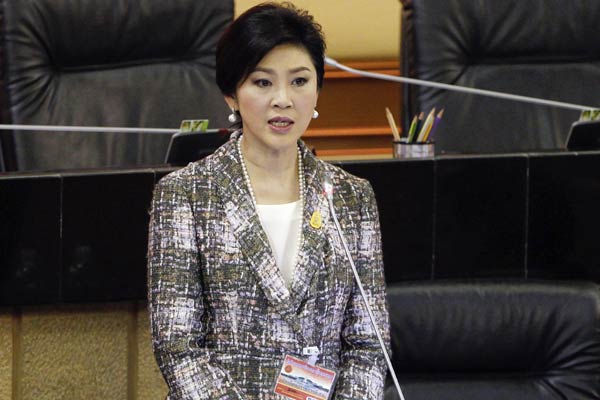 Ousted former Prime Minister Yingluck Shinawatra delivers her statement at the National Legislative Assembly meeting in Bangkok January 22, 2015. [Photo/Agencies]
BANGKOK - Former Thai premier Yingluck Shinawatra was on Friday impeached by legislators, rendering the country's first lady leader banned from politics for a five-years time due to alleged corruption in the previous government's rice subsidy program.
A total of 190 members of the National Legislative Assembly, all of whom were handpicked by Thai Premier Prayut Chan-o-cha, voted to impeach Yingluck while 18 others voted otherwise.
The impeachment for which a minimum of three-fifths of all 220 legislators, or 132, were needed, will automatically have the former leader, who ran the country from the mid-2011 until the mid- 2014, politically banned from now until 2020.
Yingluck, who had defended herself over the controversial rice program in parliament on Thursday, quietly stayed at home as the non-elected legislators cast their votes.
She repeatedly dismissed accusations lodged by the Naitonal Anti-Corruption Commission that the rice program had incurred an estimated 20 billion U.S. dollars in losses of the taxpayer's money with herself allegedly turning blind eye and deaf ear to the alleged corruption which had involved high-ranking government officials.
About 3.6 million tons of rice had been allegedly unaccounted for or spoiled after the rice had been stored at government-rented warehouses in the provinces while the ex-premier had failed to take action against those primarily responsible for such losses, according to NACC member Wicha Mahakhun.
Though Yingluck had claimed to have launched investigation into the alleged corruption over the rice program, the anti-graft agency had successfully contended that she had quietly learned of such malpractice but failed to combat it.
She had argued in vain that farmers had benefited a great deal from the rice program as an estimated 10 billion U.S. dollars had been used to buy rice for 500 US dollars a ton from them nationwide.