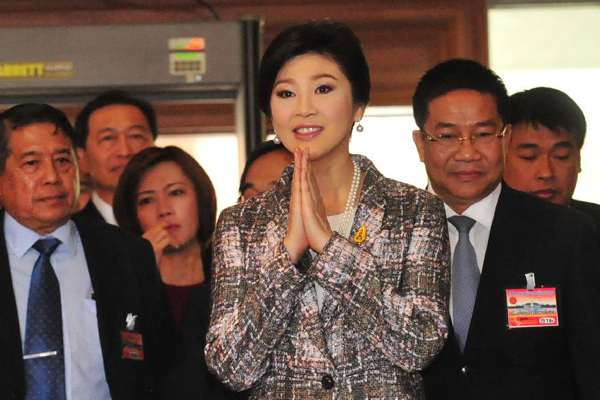 Former Thai prime minister Yingluck Shinawatra (C) arrives at the parliament building in Bangkok, Jan 22, 2015. Thailand's military-appointed legislature is to vote on impeachment against Yingluck over a government rice subsidy scheme on Friday. [Photo/Xinhua]
BANGKOK - Former Thai prime minister Yingluck Shinawatra on Thursday gave her closing statement for an impeachment trial over a rice-pledging scheme, calling for a fair verdict.
The impeachment against her is illegal as it has no constitutional basis and violates her fundamental rights, Yingluck told the National Legislative Assembly (NLA), which is set to vote on Friday.
The National Anti-Corruption Commission (NACC) filed the case with the NLA, accusing Yingluck of dereliction of duty in overseeing a controversial rice-pledging scheme and thus incurring great losses.
The rice scheme had been far more beneficial than detrimental, helping low-income earners and liberating the rice market rather than distorting the market mechanism as alleged, Yingluck said.
She added that the NACC had never given her enough time to fight the charges, while listening to biased witnesses and dismissing witnesses she had offered.
The former premier asked NLA members to be fair in the upcoming vote.
In his closing statement, NACC member Wicha Mahakhun urged the NLA to find Yingluck guilty.
The negative impact of the rice scheme will linger on for years to come, Wicha said, adding that the impeachment would teach politicians in power about being responsible for the Thai people.
About 500 police and 300 military personnel were reportedly deployed around the parliament to maintain order.
If Yingluck is impeached, which will require three-fifths of NLA members' support, or 132 votes, she will be banned from politics for five years and thus be unable to contest the next general election expected in 2016.
On Wednesday, the impeachment trial against former Senate Speaker Nikhom Wairatpanich and former House Speaker Somsak Kiatsuranon was wrapped up, with the final verdict also expected on Friday.
The case against the two politicians was also filed by the NACC for their role in passing a charter amendment to change the composition of the Senate in September 2013. The amendment was later ruled unconstitutional by the Constitutional Court.
In his closing statement, Nikhom defended himself against accusations of power abuse and malfeasance, insisting that he had no interests in the charter change.
Somsak, however, waived his right to give a closing statement either in a verbal or written form.
Prime Minister Prayut Chan-o-cha earlier denied giving any indication to the NLA about the impeachment ruling.