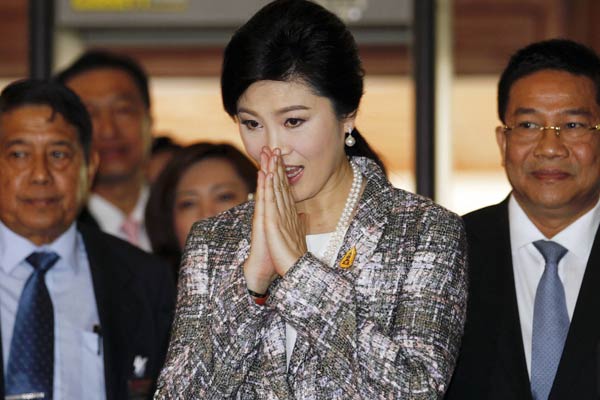 Ousted former Prime Minister Yingluck Shinawatra greets in a traditional way as she arrives at Parliament before the National Legislative Assembly meeting in Bangkok January 22, 2015. [Photo/Agencies]
BANGKOK - Thailand's Attorney General will indict former Prime Minister Yingluck Shinawatra for negligence over a controversial rice subsidy scheme, the Attorney General's Office said on Friday.
Yingluck will face a criminal charge in Thailand's Supreme Court, Surasak Theerattrakul, director general at the Attorney General's department of investigation told reporters on Friday.
If found guilty, Yingluck would face a maximum of 10 years in jail.
The announcement comes just hours before the country's military-appointed legislature is scheduled to vote in a separate impeachment case against Yingluck for failing to exercise sufficient oversight over the scheme.