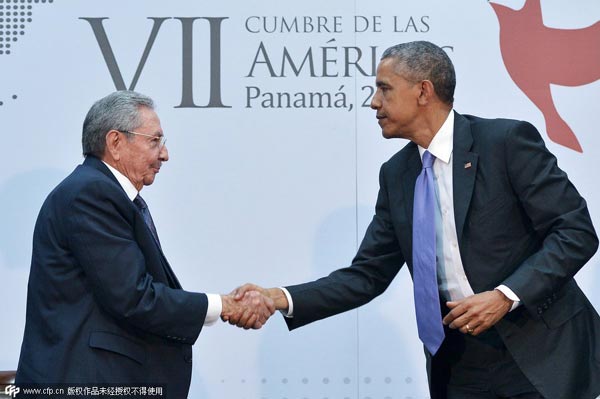 US President Barack Obama (R) shakes hands with Cuba's President Raul Castro (L) on the sidelines of the Summit of the Americas at the ATLAPA Convention center in Panama City on April 11, 2015. [Photo/CFP]
WASHINGTON - The White House said on Monday that it does not rule out a visit made by US President Barack Obama to Cuba "over the course of next year".
French President Francois Hollande is making a visit to Cuba, the first by a Western leader since the US and Cuba took steps to restore ties. Hollande's official visit is also the first ever to Cuba by a French president.
Asked about the possibility of a visit by Obama to the island country, White House spokesman Josh Earnest told reporter at a press briefing, "I think the president has indicated that he does not envision a trip to Cuba anytime in the near future."
"But I certainly wouldn't rule it out over the course of next year now," Earnest added.
Obama and his Cuban counterpart Raul Castro announced in December a thaw in relations following more than five decades of enmity. Washington and Havana have held three rounds of talks in past months in a bid to restore diplomatic relations.
"There is an ongoing diplomatic effort to try to normalize the relations between the United States and Cuba," Earnest said, adding that "there's still some important diplomatic work that remains to be done."
Last month, Obama told Congress his intent to remove Cuba from the list of state sponsors of terrorism. Cuba's terror listing has been a major sticking point in making concrete steps toward establishing diplomatic ties.
Obama's decision came after he and Castro held talks on the sidelines of a regional summit in Panama in early April, the first meeting between Cuban and US leaders in more than half a century.
"The president did enjoy the opportunity that he had to have a pretty blunt and direct conversation with President Castro about additional steps that we need to see Cuba make to better reflecting a country that protects the universal human rights of its people," Earnest said at the press briefing.