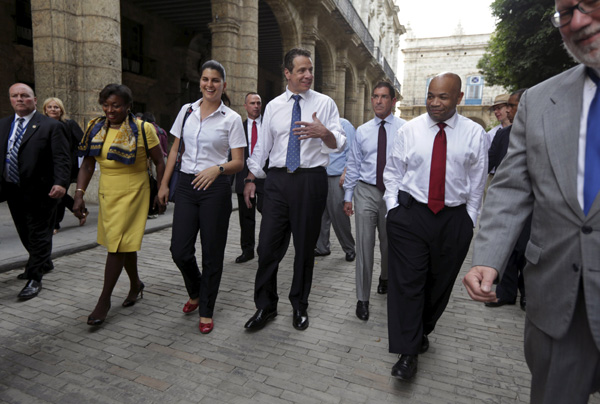 New York Governor Andrew Cuomo (C) walks on a street in Havana April 20, 2015. [Photo/Agencies]
HAVANA - A trade mission led by New York State Governor Andrew Cuomo kicked off on Monday a two-day visit to Cuba, Cuban daily Granma reported.
The mission aims to ensure the state is "present (from the) beginning of the adventure," said Cuomo, referring to the process launched by Cuba and the US to normalize ties after more than five decades of animosity.
"We are assisting the beginning of the transition in the relationship between the two countries, which is going to have significant economic benefits for both sides," Cuomo told reporters as he arrived at Havana's Jose Marti international airport.
The governor was greeted by Josefina Vidal, general director for US affairs at the Cuban Foreign Affairs Ministry.
Cuomo, the first US governor to officially visit the island since Cuba and the US decided to restore diplomatic ties in December, heads a delegation of business leaders, including Robin Hayes, CEO of low-cost carrier JetBlue; Walt M. Macnee, vice chairman of credit card company MasterCard; and Freda Lewis-Hall, vice president of pharmaceutical giant Pfizer.
"As the door begins to open between US and Cuba, we want New York businesses to be first out of the gate when it comes to building trade partnerships," Cuomo posted on Twitter a day prior to the trip.
In addition to industry leaders, the delegation included representatives of educational and research institutions based in New York, and local politicians, such as New York State Assembly Speaker Carl Heastie.
The visit is part of Cuomo's Global NY initiative, to boost trade and investment for his state, the daily said.
"The representatives in the New York delegation will help ensure the companies of the Empire State are at the forefront when the doors open to a market that has been closed to US companies for more than half a century," Cuomo said in a press release issued before the trip.