Top diplomats of Cuba, US have historic talk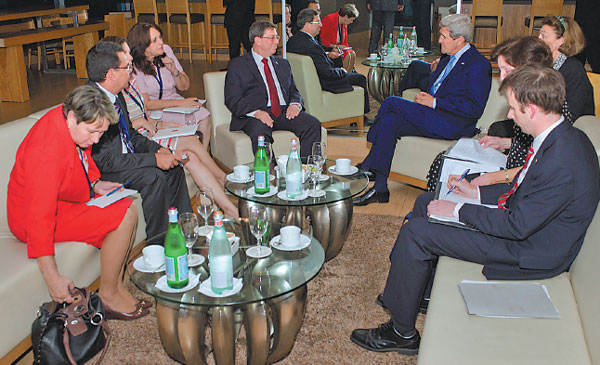 US Secretary of State John Kerry (rear center right), Cuban Foreign Minister Bruno Rodríguez (rear center left) and their advisers meet on Thursday in Panama City on the sidelines of the Summit of the Americas. Us State Department / Agence France-Presse
Closed-door session precedes phone call between presidents
US Secretary of State John Kerry and Cuban Foreign Minister Bruno Rodriguez held closed-door talks on Thursday evening, the highest-level meeting between Washington and Havana since they broke off diplomatic relations in 1961.
The meeting came ahead of a historic encounter between US President Barack Obama and Cuban President Raul Castro on the sidelines of the upcoming seventh Summit of the Americas on Friday and Saturday.
"Secretary Kerry and Cuban Foreign Minister Rodriguez had a lengthy and very constructive discussion this evening. The two agreed they made progress and that we would continue to work to resolve outstanding issues," a senior US State Department official said.
It was the first meeting between the two top diplomats since Obama and Castro announced the beginning of normalization of relations in December.
The meeting comes as the US State Department has completed a review of Cuba's status and recommended the White House remove Cuba from the State Sponsors of Terrorism List.
Should Obama authorize the removal during the summit, it would mark a big step in the rapprochement between the two countries.
But the status change will not take effect immediately because the White House has to submit the report to Congress for a 45-day review.
The United States first put Cuba on the list of states sponsoring terrorism in 1982, which has been a sticking point in the two nations' efforts to restore diplomatic relations.
Obama and Castro are expected to cross paths at the summit in the throes of a delicate diplomatic experiment: the renewal of formal relations between countries that haven't had any in more than 50 years.
Even their arrival on Thursday evening seemed steeped in symbolism: Obama, after arriving in Panama City, was whisked via helicopter to his waiting motorcade at an airport former known as Howard Air Force Base, from which the US launched its 1989 invasion of Panama. Castro's plane landed on the tarmac minutes later.
Four months ago, Obama and Castro announced their intention to restore diplomatic relations, beginning a painstaking process that has brought to the surface difficult issues that have long fed in to the US-Cuban estrangement. Hopes of reopening embassies in Havana and Washington before the summit failed to materialize. The US is still pushing Cuba to allow more freedom of movement for its diplomats, while Cuba wants relief from a sanctions regime that only Congress can fully lift.
Three rounds of talks on restoring diplomatic ties and reopening embassies have been held since December.
Xinhua - AP