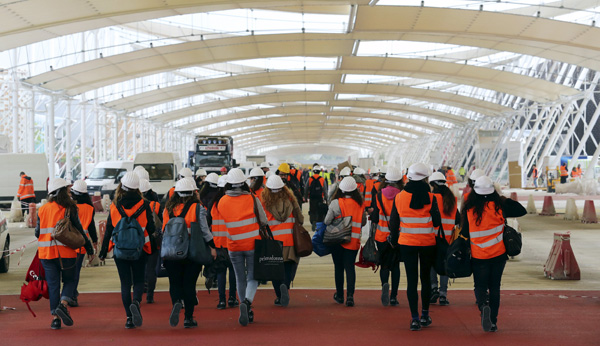 Staff members walks inside the Expo 2015 work site near Milan April 27, 2015. The Milan Expo will open in the city on May 1, following the 2010 Shanghai Expo. Officials are counting on some 20 million visitors to the six month-long exhibition of products and technologies from around the world. [Photo/Agencies]
MILAN, Italy - Hours before the opening of Expo Milano 2015, security has been tightened in Milan, the Italian northern city that will host the much-awaited world exposition.
Terror alert is high days after supporters of the so-called Islamic State (IS) posted on Twitter photographs allegedly taken in Italian cities, including Milan, accompanied with threatening messages.
The Duomo Cathedral, in the heart of Milan, was visible in one of them, and the flags of Expo Milano 2015, which will kick off on Friday, in some others.
"We heard of the risks of terrorist attacks so that we are uncertain whether to stay open during the opening concert on Thursday," the owner of a coffee bar near Duomo Square, Miky Passero, told Xinhua.
The concert in Duomo Square, which precedes the official opening of Expo Milano 2015 on May 1 and will host international guests including Italian tenor Andrea Bocelli and Chinese pianist Lang Lang, is expected to attract crowds of people.
"Some workers at the Expo stage in Duomo Square told us that there have been clear terrorist menaces. We are happy about the Expo but we are also quite worried," Passero added.
"We have not received special alerts from police," Attilio Manassero, Managing Director at Havas Events Milan, the organizer of the concert, said.
However, Manassero explained to Xinhua, police focus on the area is tight. "Actually what is especially feared are the possible demonstrations of anti-Expo activists who want to show off," he added.
According to local reports, police on Wednesday found reinforced clubs, gas masks and pickaxes during searches in a Milan working class neighborhood.
Several people, including some Italians and other alleged anti- Expo activists reported to be mostly of French and German origin, were taken in for identification.
Spokeswoman of Milan police Magica Palmisano told Xinhua that strong measures have been taken to defend against the risk of attacks.
"Alarm is an exaggerated word which does not describe our state, " Palmisano stressed. She noted, however, that Expo Milano 2015 is a global event expected to attract an average of 140,000 people every day, thus needs very special attention.
"For this reason, controls have been significantly tightened, with more than 2,000 policemen and 800 troops sent from the central government to strengthen the forces normally operating in Milan," the spokeswoman explained to Xinhua.
The number of people deployed for the world exposition, she noted, is well above the around 1,500 deployed during the tenth Asia-Europe Meeting (ASEM), also held in Milan last October.
The one million-square-meter exposition site, located in the northwestern part of Milan, will function like an airport equipped with hundreds of metal detectors and x-ray devices, Palmisano said.
She also added special security measures will include dog teams, crack shots as well as police squads only active in the Milan subway system.