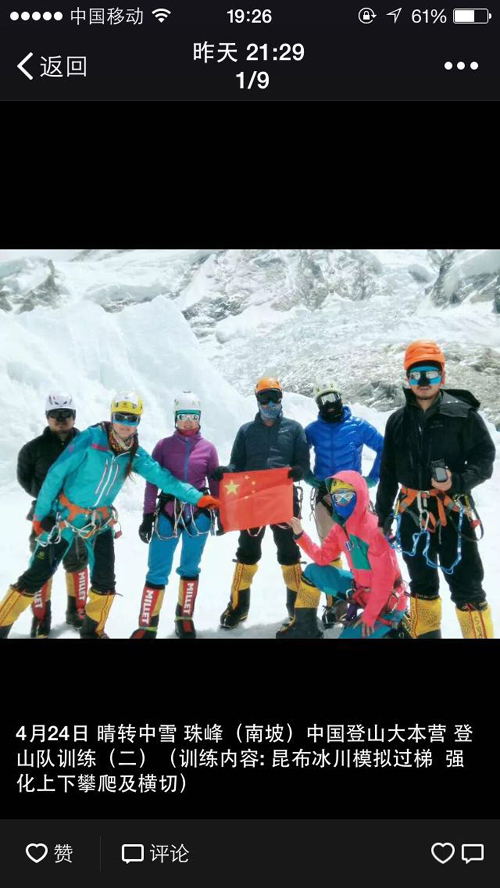 A group photo of Chinese Women's Mountaineering Team posted by Ma Liyamu on her wechat. [Photo from Ma Liyamu's wechat]
Authorities also scrambled to provide shelter in the capital, Kathmandu, for thousands of people who spent the night outside in freezing temperatures and patchy rain, too afraid to return to their damaged homes.
People milled about in parks and streets strewn with rubble. The 7.9 magnitude quake struck at midday on Saturday at a busy time of year for the tourism-reliant country's trekking and climbing season, with an estimated 300,000 foreign tourists in the country.
The government planned to pitch tents and turn schools and other public buildings into shelters, said Rameshwor Dangal, a home ministry official. It would also re-open roads and send helicopters to rescue people.
Nepal's police put the death toll at 1,896, with about 4,700 injured. At least 400 were killed in the capital, a city of about 1 million people where many homes are old, flimsy and packed close together.
Foreign climbers and their Nepalese guides around Mount Qomolangma were caught by the tremors and a huge avalanche that claimed the highest toll of any disaster on the world's highest mountain.
Seventeen bodies were recovered on Mount Qomolangma base camp and 61 were injured when part of the base camp was engulfed by the snowslide, Ang Tshering Sherpa, president of the Nepal Mountaineering Association, told Reuters. Related: 18 feared dead in avalanche
A first helicopter took off from Kathmandu on Sunday morning to airlift the injured after flights were delayed by cloudy weather, Sherpa said.
Two light helicopters were shuttling injured from base camp to a lower altitude, from where they could be evacuated back to the capital, emergency officials at Kathmandu airport said.
Hospitals across the nation of 28 million people struggled to cope with its worst quake in 81 years. They expected a fresh influx of patients on Sunday but medical supplies were running low.
Kathmandu's Bir Hospital had received 300 to 350 patients with serious injuries through Saturday, and most of them died, said paramedic Dinesh Chaudhary. He said the hospital was procuring medicines from shops outside.