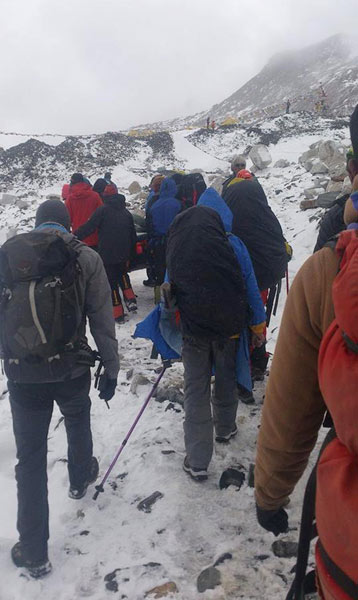 Climbers and guides carry an injured after an avalanche struck Mount Qomolangma Base Camp in Nepal, Saturday, April 25, 2015. An avalanche triggered by a massive earthquake in Nepal smashed into a base camp between the Khumbu Icefall, a notoriously treacherous rugged area of collapsed ice and snow, and the base camp where most climbing expeditions are, said Ang Tshering of the Nepal Mountaineering Association. [Photo/IC]
KATHMANDU - An Indian army mountaineering team found 18 bodies on Mount Qomolangma on Saturday, an army spokesman said, after a massive earthquake in Nepal unleashed an avalanche on the world's tallest mountain at the start of the main climbing season.
Nepal's Tourism Ministry could only confirm 10 deaths, but spokesman Gyanendra Shrestha said the death toll could rise, and that the avalanche had buried part of the base camp. He said two tents at the camp had been filled with the injured.
One of those killed was Dan Fredinburg, a Google engineer based in California. He died as a result of head injuries when the avalanche hit, according to a statement from the mountaineering company that had taken him to base camp.
"We pray too for all those who have lost their lives in one of the greatest tragedies ever to hit this Himalayan nation," Jagged Globe said.
Tourism ministry officials estimated that at least 1,000 climbers, including about 400 foreigners, had been at base camp or on Mount Qomolangma when the earthquake struck.
April is one of the most popular times to scale the 8,850-metre peak before rain and clouds cloak it at the end of May. Almost exactly a year ago, an avalanche killed 16 Nepali guides in what was the single deadliest day on the mountain.