PEOPLE STILL TRAPPED
The earthquake, centred 50 miles (80 km) east of the second city, Pokhara, was all the more destructive for being shallow.
Rescue operations had still not begun in towns in some remote areas.
Across the city, rescuers scrabbled through destroyed buildings, among them ancient, wooden Hindu temples.
"I can see three bodies of monks trapped in the debris of a collapsed building near a monastery," Indian tourist Devyani Pant told Reuters. "We are trying to pull the bodies out and look for anyone who is trapped."
Neighbouring India, where 44 people were reported killed in the quake and its aftershocks, sent military aircraft to Nepal with medical equipment and relief teams. It also said it had dispatched 285 members of its National Disaster Response Force.
In China's Tibet, the death toll climbed to 17, according to a tweet from China's state news agency, Xinhua.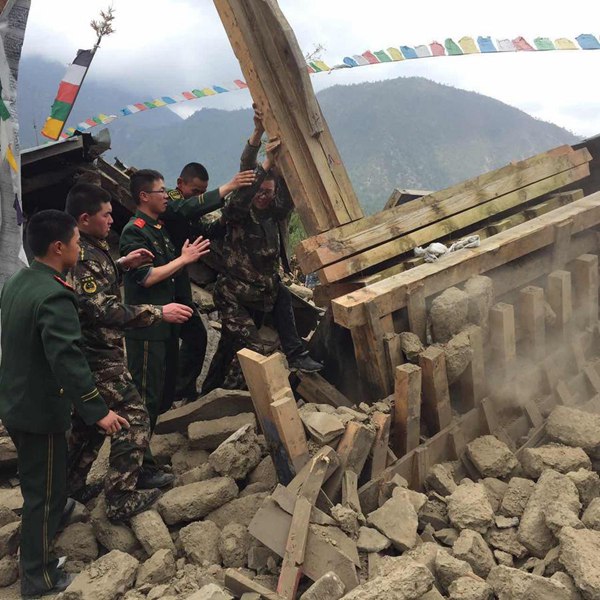 Rescuers work in the county of Gyirong in China's Tibet Autonomous Region, April 25, 2015. Death toll in southwest China's Tibet Autonomous Region has climbed to 17, after a powerful earthquake struck neighboring Nepal on Saturday, local authorities said Sunday. [Photo/Xinhua]
International aid groups readied staff to go to Nepal to help provide clean water, sanitation and emergency food, while the United States, Britain and Pakistan were among countries providing search-and-rescue experts.
More than 1,000 climbers were on Mount Qomolangma at the start of their season when disaster struck.
Romanian climber Alex Gavan tweeted on Saturday that there had been a "huge earthquake then huge avalanche" at Mount Qomolangma base camp, forcing him to run for his life.
In a later tweet he made a desperate appeal for a helicopter to fly in and evacuate climbers who had been hurt: "Many dead. Much more badly injured. More to die if not heli asap."
In the Annapurna mountain range, where scores were killed in the nation's worst trekking accident last year, many hikers were stranded after the quake, according to messages on social media, but no deaths there had been reported.
Nepal, sandwiched between India and China, has had its share of natural disasters. Its worst earthquake in 1934 killed more than 8,500 people.