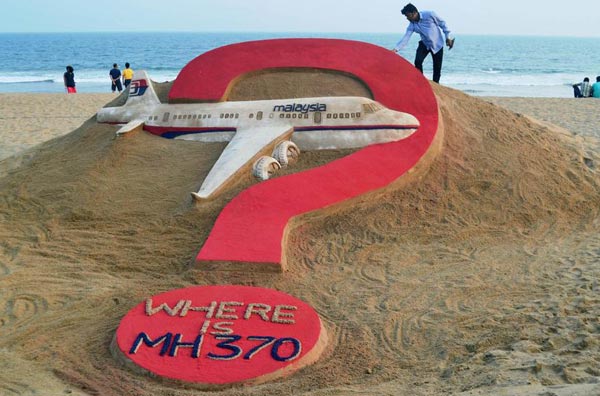 Indian sand artist Sudarsan Pattnaik creats a sand sculpture on missing Malaysia Airlines flight MH370 on Puri beach in eastern Odisha state, India, on March 7, 2015. [Photo/Xinhua]
Search efforts for the missing Malaysia Airlines flight MH370 is to move to the next stage, Transport Minister Datuk Seri Liow Tiong Lai said.
Having discussed this at the Officials Tripartite Meeting held in Perth, Australia on March 23 and 24, Liow said Malaysia together with Australia and China would review the search efforts and decide on the next step based on advice by experts from the search strategy working group (SSWG).
"Since that fateful day in March last year, no effort had been spared in the search for MH370," Liow said in a statement.
He explained that the SSWG led by the Joint Agency Coordination Centre and the Australian Transport Safety Bureau comprised of experts from the National Transportation Safety Board from the United States,
Thales UK (a company which provides advanced hardware and technology, plus support, for all types of aircraft), Civil Aviation Administration of China and the UK Air Accidents Investigation Branch.
In the search for the aircraft believed to have vanished in the Indian Ocean on March 8 last year, Liow said Malaysia had committed more than A$60mil (RM168 mil).
"This demonstrates our commitment," said Liow.
The search area so far has covered 37,000 sq km (equivalent to 61% of the search priority area).
"We will continue to collaborate to review and refine all available data which indicates a highly probable search area close to a long but narrow arc of the southern Indian Ocean," he said.
He praised the efforts of the search team, saying that it was a challenge as the location was remote with adverse sea and weather conditions.