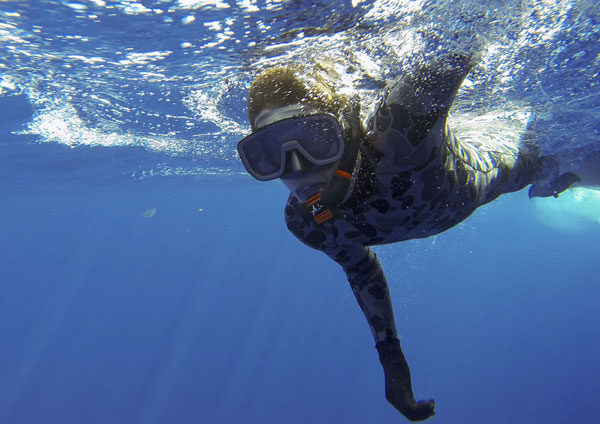 A fast response craft from Australian Defence Vessel Ocean Shield tows Able Seaman Clearance Diver Matthew Johnston as he searches the ocean for debris in the search zone in the southern Indian Ocean for the missing Malaysian Airlines flight MH370 in this picture released by the Australian Defence Force April 8, 2014.[Photo/Agencies]
CANBERRA -- The Australian man leading search efforts for missing Malaysian Airlines flight MH370 has revealed details of the way in which the Australian government is dealing with China and Malaysia as investigations into the aircraft's mysterious disappearance continue.
Martin Dolan, the chief commissioner of the Australian Transport Safety Bureau (ATSB), told Xinhua on Tuesday that his search teams are rarely in direct contact with Chinese or Malaysian officials.
Instead, the Australian government's Joint Agency Coordination Center (JACC), established by Prime Minister Tony Abbott in March last year, handles relations with China and Malaysia.
This, in turn, enables the ATSB to focus its efforts solely on the search for flight MH370.
"We tend not to interact that much directly with either of the Chinese or Malaysian government because we have, as part of the overall way that the Australian government is managing this, the JACC," Dolan said.
"They are the ones that have been managing some of the direct relationships with the families and the governmental stuff and drawing on our expertise in feeding that into the relevant points of the process.
"That leaves us to be focused on actually conducting the search and we think that arrangement is working really well."
One year has passed since the Malaysia Airlines flight MH370 disappeared on March 8, 2014, with families of the 239 passengers on board still in the dark about its whereabouts.