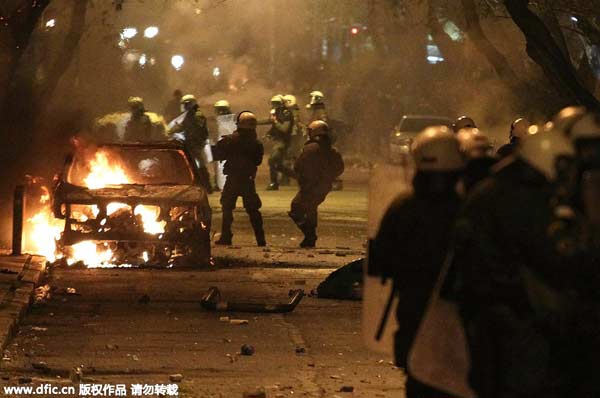 Protestors burn a car during clashes with riot policemen after a protest march in support of prisoners who are on hunger strike, outside the Polytechnic University in Athens, Greece, April 7, 2015. [Photo/IC]
ATHENS - A small group of black-clad anti-establishment protesters clashed with riot police in central Athens on Tuesday, hurling petrol bombs and burning cars after a march against high-security prisons.
The group of about 50 hooded protesters threw stones and petrol bombs at police in the central Exarchia district, a Bohemian quarter popular with artists and left-wing intellectuals.
"They set two cars and a few garbage bins on fire, attacking police with stones and petrol bombs," a police official told Reuters.
The protesters were calling for the end to high-security prisons, which the new leftist-led government has vowed to scrap.
Last week, anti-establishment protesters occupied several public buildings and briefly entered the grounds of parliament, calling for the release of jailed members of a Marxist group.