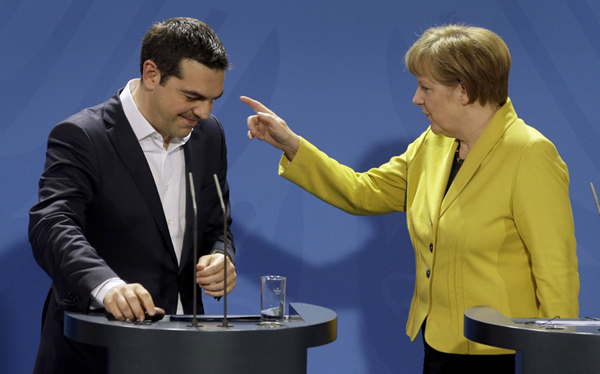 German Chancellor Angela Merkel, right, points as she and the Prime Minister of Greece Alexis Tsipras leave after a press conference as part of a meeting at the chancellery in Berlin, March 23, 2015. [Photo/IC]
BERLIN - Greek Prime Minister Alexis Tsipras and German Chancellor Angela Merkel sought Monday to reboot an increasingly sour relationship, saying they are looking for ways to help Athens reach a deal with creditors that will keep it from falling out of the euro.
In his first visit to Germany since coming to power in January, Tsipras sounded a conciliatory note - though he stopped short of promising anything concrete on reforms that creditors like Germany want to see before they pay more money.
Greece urgently needs more funds as it faces a cash crunch within weeks.
Backtracking on some of his previously fiery rhetoric blaming Greece's problems on German insistence on budget austerity measures, Tsipras said he wanted to "break the stereotypes that have grown in the past five years: The Greeks are not lazy and the Germans are not to blame for everything."
Tsipras said Merkel invited him to Berlin for talks as the tensions between the two countries increased, telling him "it is better to talk with one another than about one another."
"I did not come here to ask for financial help," Tsipras told reporters after meeting with Merkel behind closed doors for more than an hour. "I came for an exchange of our thoughts and opinions, to see where there is common ground and where there is disagreement."
He characterized the talks as "positive," saying he found Merkel "listens and wants to be constructive in the exchange of opinions."
Merkel was careful to point out Germany was only one of the eurozone nations that would be responsible for deciding whether Greece's reforms are sufficient, and said no decisions had been made in her talks with Tsipras.
"Today we can only talk about things," she said, characterizing the meetings as being held in "a spirit of trust."
The two were to continue their discussions over dinner following the press briefing.
Tsipras' first weeks in office have been marked by tensions between the two governments' contrasting approaches to Greece's debt crisis and over Athens' revival of calls for World War II reparations from Berlin.
Tsipras brought reparations up as he spoke alongside Merkel, but said "there is no linkage at all with the financial crisis and the eurozone crisis - it is clearly a bilateral issue."
"This is primarily a moral issue and I believe that we have to work together, our two countries, to address this moral issue," he said.
Merkel stuck to her government's contention that "the question of reparations has been politically and legally settled" with a 1960 accord with Greece and a payment at that time. But she noted Germany has earmarked 1 million euros ($1.1 million) annually for a "German-Greek future foundation" meant to fund remembrance and historical research projects, and "in this spirit we will talk with the Greek government further."
Tsipras' left-wing Syriza party won general elections with the campaign promise to end the spending cuts favored by Germany in exchange for 240 billion euros ($260 billion) in international bailout money. His new government agreed a month ago to push through reforms in exchange for keeping European Union aid flowing, but has delayed submitting the measures for approval.
A full reform list should be presented "by early next week," Greek government spokesman Gavriil Sakellaridis told private Mega television on Monday. He insisted that "the Greek government will not take any recessionary measures" that will weigh down the country's troubled economy.
German officials have complained about their Greek counterparts making commitments and then publicly casting doubt on them, but also insist the debt spat isn't a bilateral matter.