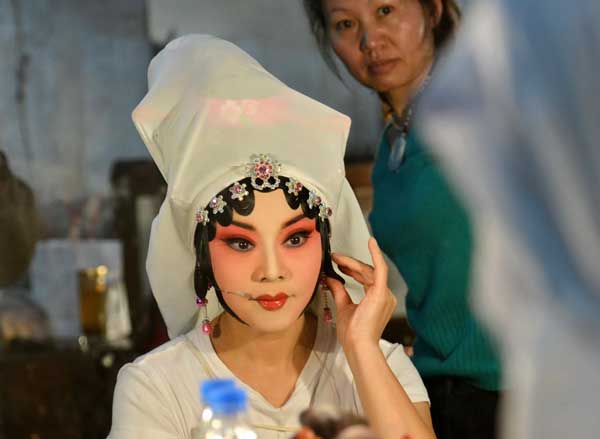 Peng Huiheng, the first actress to play the title role in the adaptation of Medea, checks her makeup in a mirror before a show. Qin Zhigang / China Daily
A Hebei Bangzi Opera version of the Greek tragedy Medea has proved to be an effective way of introducing Westerners to the traditional Chinese art form, according to the first actress to play the title role.
"It sounds wildly fantastic to stage an ancient Greek tragedy in this local Chinese opera style, but the performances have received a warm welcome and generous praise from theater critics in many Western countries," said Peng Huiheng.
Medea, by Euripides, tells the story of an abandoned wife who murders her children. The Hebei Bangzi Opera version was written in 1989 and has been staged 100 times in Western countries.
The adaptation features kung fu and contains detailed descriptions of the sadness and desperation felt by Medea, which Peng says is a traditional Chinese way to portray character.
She still remembers the wild applause from an audience at the Latin American Theater Festival of Bogota in Colombia after a performance in 2010.
Luo Jinlin, who directed the show, told Xinhua News Agency: "What moved me most back then was a mother and her daughter who were able to buy only one ticket, so they decided to watch it in parts. The mother watched first, then the daughter."
Peng, 49, said that although the Greek original and the Chinese version come from different cultures, they are connected by the way they express feelings of sadness.
"The solemn and stirring singing style of Hebei Bangzi Opera effectively expresses the desperation of Medea."
Peng became the youngest winner of the Plum Performance Award, the country's top dramatic performance prize, in 1996.
She is deputy dean of the opera major at Hebei Vocational Art College. After a series of performances in Italy, an institute in Rome invited her to stay to conduct research and promote the play and Chinese opera, but she declined because she wanted to work with her students in China.
Peng is aware of the problems faced by Hebei Bangzi Opera troupes at the grassroots level, such as the decline in the number of young people wishing to study the style.
"Many people think the market for this form of art is shrinking, it's true," she said. "But in my experience, the demand for high-quality performances with well-designed costumes and good stage sets is growing.
"To keep local opera healthy, governments should give troupes more funds so they can improve their facilities, nurture talent and attract more people."
Related:
Opera troupes struggle to avoid final curtain