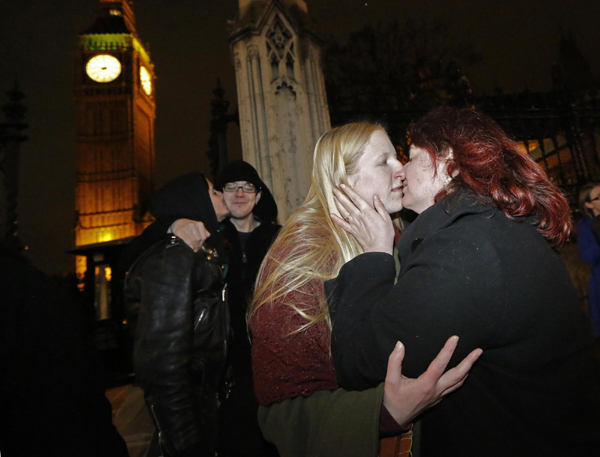 Elizabeth Maddison (L) kisses her civil partner Hannah Pearson after proposing marriage to her in front of Parliament in London, Feb 5, 2013. [Photo/Agencies]
LONDON - China is one of 24 countries and regions where same-sex couples can marry in British consulates starting June 3, the British Foreign and Commonwealth Office (FCO) announced Tuesday.
The new law means that same-sex marriages will be able to take place at British consulates in the following countries and regions:
Australia, Azerbaijan, Bolivia, Cambodia, Chile, China, Colombia, Costa Rica, Dominican Republic, Estonia, Germany, Hungary, Japan, Kosovo, Latvia, Lithuania, Mongolia, Montenegro, Nicaragua, Peru, the Philippines, Russia, Serbia, and Vietnam.
A spokesman for the FCO said: "This list ... is limited because British missions are only able to provide a same-sex marriage service ... where it is not possible for British nationals to have such a marriage under local law and where the local authorities have given permission for the missions to conduct consular marriages of same-sex couples."
Same-sex marriages became legal in most of Britain under a law passed in 2013, with the first couples getting married a year later in England and Wales, followed by Scotland last December following legislation passed by the Scottish Parliament.