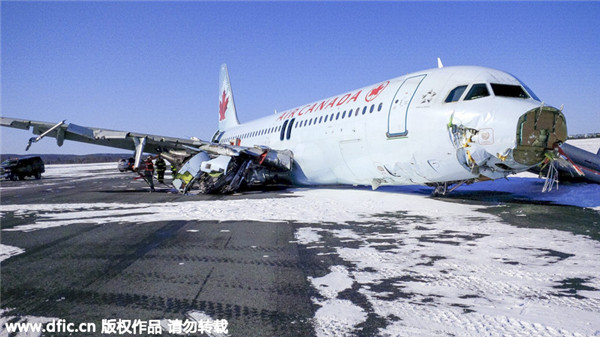 A handout released by the Transportation Safety Board of Canada shows an Air Canada Airbus A320 which slid off the runway following a hard landing in poor weather conditions in Halifax, Nova Scotia, Canada, March 29, 2015. Reports indicate that 25 of the 133 people on board were taken to the hospital. Most were treated for minor injuries and released.[Photo/IC]
Air Canada flight that crash landed hit antenna array before landing
The Air Canada plane that crash landed early Sunday struck an antenna array that knocked off the main landing gear as it attempted to touch down in the midst of a snow storm at the airport in Halifax, Nova Scotia, Canada's Transportation Safety Board said on Sunday.
The damage caused the Flight AC624, an Airbus 320 that left Toronto late Saturday, to skid about 335 meters, said Mike Cunningham, a regional manager for the Transport Safety Board.
"They touched down 1,100 feet (335 meters) short of the runway so I'd say they're pretty lucky," he told a news conference.