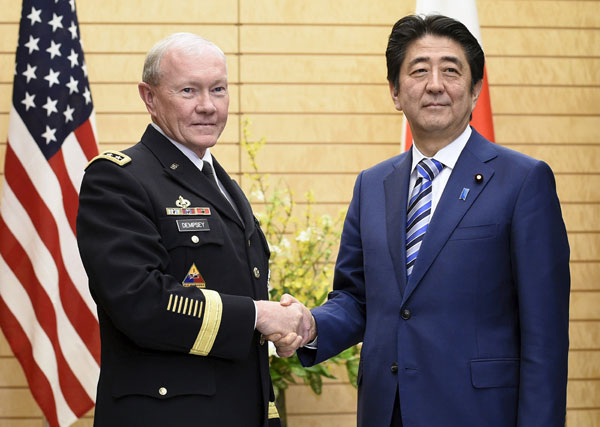 US Army General Martin Dempsey (L), chairman of the Joint Chiefs of Staff, shakes hands with Japan's Prime Minister Shinzo Abe at the start of their talks at Abe's official residence in Tokyo March 25, 2015.[Photo/Agencies]
TOKYO - Japanese Prime Minister Shinzo Abe would disappoint US President Barack Obama over the US-led Trans-Pacific Partnership (TPP) free trade talks as the Japanese conservative leader said Friday that his country would not make easy concessions on accelerating the negotiations.
"It is impossible to make unnecessary concessions in line with my trip to the United States," Abe told a Diet session, adding that the TPP free trade talks are "in the final phase, but problems remain".
The prime minister made the remarks ahead of his eight-day visit to the United States from April 26, and he will visit the White House on April 28 to have a summit with Obama who is eager to conclude the marathon TPP talks at an early date so as to leave positive legacy for his Democrats in future presidential elections.
Japan is reluctant to open its agriculture market, particularly on rice and pork, to inexpensive US products, while the United States is considering that when it will remove its tariff over Japan-import cars. The Lingering differences between the two major economies in the 12-member bloc are regarded as a drag on the whole negotiations.
Abe's comments undoubtedly cast shadows over the conclusion of the talks. However, US Trade Representative Michael Froman on Thursday expressed his confidence of an early deal. "We do feel that we can close this out in a very small number of months," he said in Washington.
Obama visited Japan in April last year with an ambitious plan to push forward their TPP-related talks. The president sought to acquire Japan's concession by reiterating US defense commitment to its ally over disputed islets with neighbouring countries.
Abe's US trip will also make him the first Japanese leader to address the Congress on April 29.
"His address will provide an opportunity for the American people to hear from one of our closest allies about ways we can expand our cooperation on economic and security priorities," John Boehner, House of Representatives speaker, said in a statement.