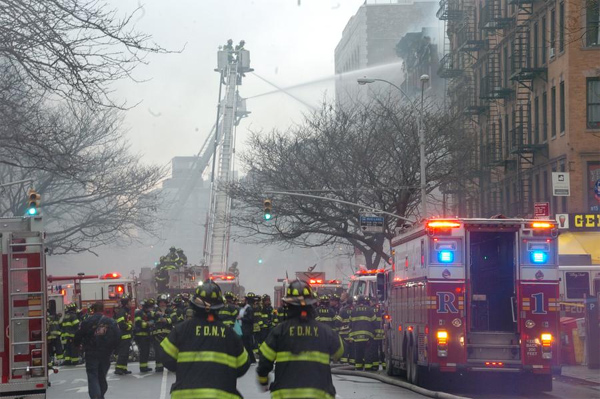 Firefighters battle the blaze in Manhattan's fashionable East Village where the explosion happened, March 26. [Photo/Xinhua]
NEW YORK - An apartment building collapsed in a fiery burst of rubble on Thursday and flames spread to nearby buildings in what officials said appeared to be a gas-related explosion, injuring at least a dozen people and scattering debris across surrounding streets in the heart of Manhattan's fashionable East Village.
Mayor Bill de Blasio said the blast appeared to have been caused by plumbing and gas work inside one building. Inspectors from utility Con Edison had been there to check on a planned gas meter installation about an hour before the fire, but they decided the building wasn't ready for gas to be introduced, company President Craig Ivey said.
Orange flames billowed and smoke could be seen and smelled for miles after the blaze, in an area of old tenement buildings that are home to students and longtime residents in an area near New York University and Washington Square Park.
About 250 firefighters converged to fight the flames, and the fire department's commissioner said a second building was "in danger of possible collapse" and four buildings were affected in all.
Firefighters said at least 12 people were hurt, four critically, some with burns to their airways. De Blasio said it didn't appear that anyone was missing.
"We are praying that no other individuals are injured and that there are no fatalities," he said.
The fire happened a little over a year after a gas explosion in a building in East Harlem killed eight people and injured about 50. De Blasio noted that no one had reported a gas leak to authorities before Thursday's blast.
The area was evacuated, and the city's health department advised residents to keep their windows closed because of the smoke.