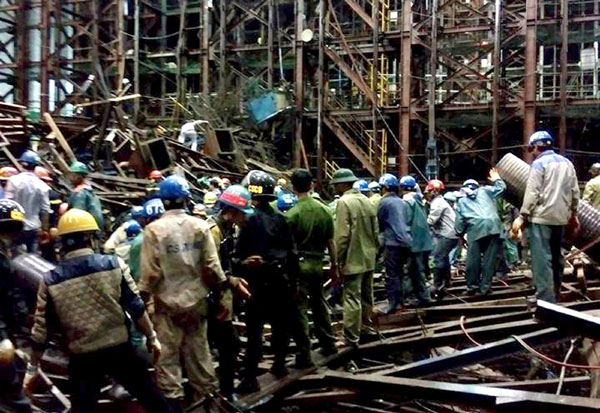 Rescuers and workers search for victims at a collapsed construction site in Ha Tinh province, south of Hanoi March 25, 2015.[Photo/Agencies]
HANOI, Vietnam - A total of 14 people were killed while 28 others injured in an incident in Formosa Ha Tinh Steel Corporation (FHS) construction site in central Vietnam on Wednesday night, a local military official said on Thursday.
At around 20:00 p.m. (GMT 1300) on Wednesday, a scaffold collapsed in Vung Ang port construction site, part of FHS's huge iron and steel project in Ky Anh district, Ha Tinh Province, some 350 km south of capital Hanoi.
The accident occurred when hundreds of workers were working on scaffolds with a height of about 20 to 30 meters at the Vung Ang port under construction by South Korea's Samsung Group.
The workers were casting concrete column for sea breakwater at Son Duong deep-water wharf of Vung Ang port while the accident happened.
According to initial information, 12 have been killed while more than 20 injured people were rushed to local hospital for emergency treatment, Vietnam's state-run news agency VNA reported on early Thursday morning.
Later, Nguyen Minh Nguyen from Ha Tinh military force said on Vietnam Television on Thursday morning that two more workers were found dead, trapped under the wreckage.
Nguyen said a total of 14 workers were dead while 28 others injured.
Nguyen Van An, deputy head of Ha Tinh Province police told Xinhua over phone that so far, no more victims were found under the debris. Rescue forces are underway to cut and remove the steel scaffolds to clear the site.
An injured victim said on VTV that the scaffolds "showed signs of shaking before they began working". He said the workers " informed the management team but was ignored."
A doctor said on VTV that among the 28 injured workers, four are in critical conditions.
According to information from Ministry of Health, experts from Viet Duc Hospital in capital Hanoi were sent to Ha Tinh in early morning. Minister of Construction Trinh Dinh Dung is also on the way to the province.
The project, invested by the Formosa group from China's Taiwan and licensed in 2008, aims to build the largest iron and steel plant with a deep-water port in Southeast Asia within a land lease duration of 70 years.