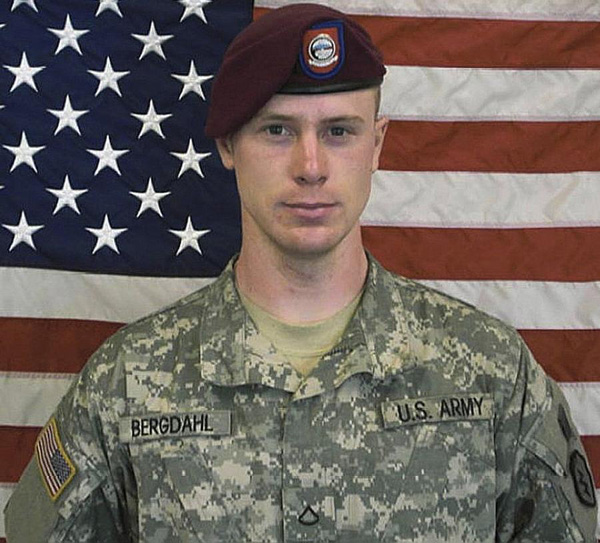 US Army Sergeant Bowe Berghdal is pictured in this undated handout photo provided by the US Army. [Photo/Agencies] 
WASHINGTON - The US military on Wednesday charged Army Sergeant Bowe Bergdahl, a former Taliban captive who was released last year in a prisoner exchange, with desertion and misbehavior before the enemy.
"The US Army Forces Command ...formally charged Sergeant Bergdahl under the Armed Forces uniform code of military justice on March 25th, 2015 with desertion, with intent to shirk important or hazardous duty, and misbehavior before the enemy by endangering the safety of a command, unit, or place," said Colonel Daniel King at a press conference.
The Army has referred the case to an Article 32 preliminary hearing, Colonel King said, adding that the preliminary hearing will take place at US army post Fort Sam Houston, in San Antonio, Texas, where Bergdahl had been on active duty at an administrative job since his return to the United States.
Bergdahl faces a maximum sentence of life in prison if convicted of the most serious count, said Colonel King.
"Misbehavior before the enemy by endangering the safety of a command, unit, or place, carries a maximum potential penalty of a dishonorable discharge, reduction to the rank of E-1, total forfeiture of all pay and allowances, and possible confinement for life," King said.
The decision came almost a year after Bergdahl was released last summer in a controversial prisoner exchange. Bergdahl, then a private first class, disappeared on June 30, 2009. It was later known that he was captured by Taliban militants and was kept captive for five years. He was released in May 2014 in exchange for five Taliban officials imprisoned at Guantanamo Bay, Cuba.
According to the US TV network CNN, US military officials have privately suggested to CNN the process took longer than expected as the military weighed actions. The report said that the military found itself unwilling to imprison Bergdahl for a lengthy term given the fact that he had already been taken captive by Taliban for five years.
The prisoner exchange ignited heated debates in the United States, with both Republicans and Democrats questioning why US President Barack Obama did not inform Congress of the swap ahead of official announcement.