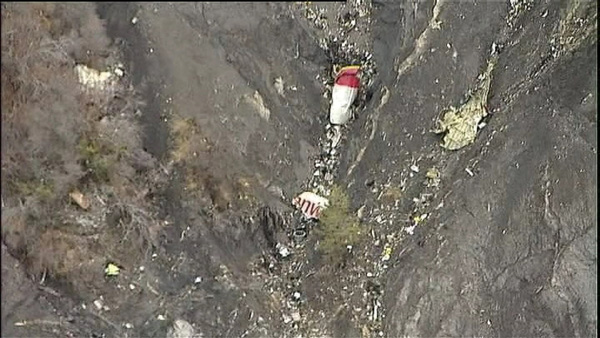 Debris from an Airbus A320 is seen in the mountains, near Seyne-les-Alpes, March 24, 2015 in this still image taken from TV. [Photo/Agencies]
PARIS/BERLIN - French gendarmes late Tuesday found one of the two black boxes of a German passenger plane that crashed in southern France with 150 people on board, while a joint international probe into the cause of the accident is under way.
The black box is used for recording conversations in the cockpit of the ill-fated plane, an Airbus 320 of Germanwings, a low-cost airline owned by German flag carrier Lufthansa, France's BFMTV reported.
The jetliner was on its way from Barcelona, Spain, to the German city of Duesseldorf when it crashed early Tuesday. French President Francois Hollande said there might be no survivors among the 144 passengers and six crew members.
The BFMTV report said the other black box, which is used for storing flight data, has not yet been retrieved, adding that search and rescue operations have been currently suspended but will resume Wednesday morning.
French Interior Minister Bernard Cazeneuve, who was at the site of the crash, said the flight recorder would be transferred to investigative services.
"The black box will be analyzed in the coming hours to allow the investigation to move quickly," he said, noting that measures had been taken to prepare the crash zone for the investigation so it could take place under the best conditions.