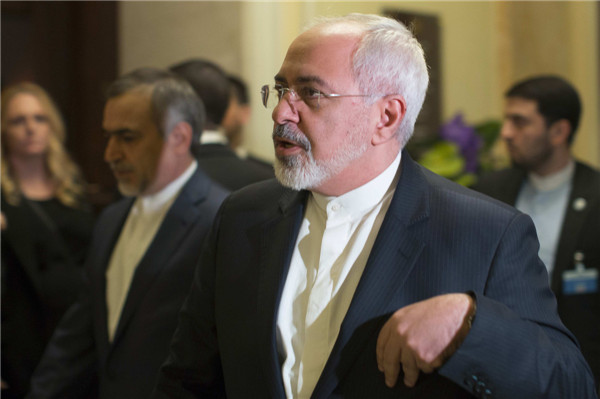 Iran's Foreign Minister Javad Zarif walks into another negotiating meeting with United States Secretary of State John Kerry over Iran's nuclear program in Lausanne, March 18, 2015. [Photo/Agencies]
GENEVA/WASHINGTON - World powers and Iran speeded up efforts for a framework agreement before the March 31 deadline, despite their differences on some key issues related to Tehran's controversial nuclear program.
US Secretary of State John Kerry and Iranian Foreign Minister Mohammad Javad Zarif met for the fourth day in the Swiss city of Lausanne on Thursday, in a bid to narrow down gaps ahead of the immediate deadline.
Iran's Deputy Foreign Minister Abbas Araqchi, US Under Secretary of State Wendy Sherman, the head of Atomic Energy Organization of Iran Ali Akbar Salehi, and US Secretary of Energy Ernest Moniz also held separate negotiations.
The current round of nuclear talks is at its "final stage" with negotiators staying in Switzerland to find solutions for the remaining problems, Zarif said.
"Presently, we see ourselves at the final stage of the talks which demands intensive discussions," he was quoted by Iran's official IRNA news agency as saying.
Much work is needed to achieve mutual understanding and negotiators will stay in Lausanne as long as it takes, Zarif said when asked how long the talks will last.
He described the current state of negotiations as "complicated and difficult," adding that the negotiators are working on the remaining issues, which is a "good sign for a move forward."
Senior officials from Iran and the P5+1 countries -- the United States, China, Russia, France, Britain, plus Germany -- on Wednesday kicked off a new round of nuclear talks, which came after top US and Iran diplomats held intensive bilateral meetings since Sunday.
On Friday, the six world powers and Iran were expected to sit on the negotiating table to reach a framework agreement ahead of the March 31 deadline.