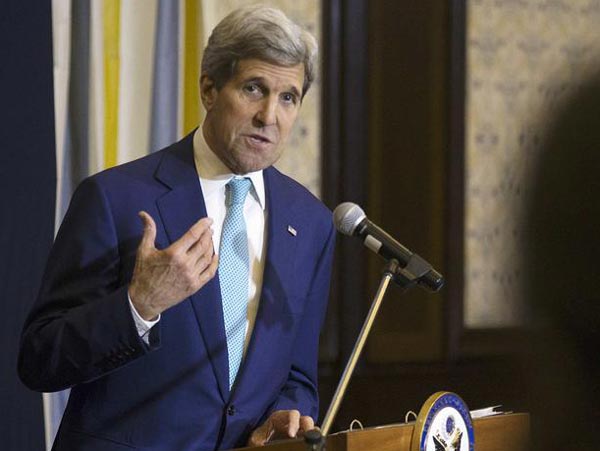 US Secretary of State John Kerry answers a question from a reporter at a news conference in Sharm el-Sheikh, March 14, 2015. [Photo/Agencies]
US Secretary of State John Kerry said on Saturday he hoped "in the next days" it would be possible to reach an interim deal with Iran if Tehran can show that its nuclear power program is for peaceful purposes only.
Speaking on the eve of fresh talks with Iran in Lausanne, Switzerland, on Sunday, Kerry appeared more upbeat about the possibility of a framework agreement by a deadline at the end of the month. A final accord would then be negotiated by June 30.
Earlier on Saturday he told a news conference on the sidelines of a conference in the Red Sea resort of Sharm El-Sheikh that it was unclear whether an interim deal was within reach.
A deal would curb Tehran's most sensitive nuclear activities for at least 10 years in exchange for the gradual easing of some sanctions.
"We believe very much that there's not anything that's going to change in April or May or June that suggests that at that time a decision you can't make now will be made then," Kerry told CBS News.
"If it's peaceful, let's get it done. And my hope is that in the next days that will be possible," he added.
The White House is furious about a letter written by 47 Republican senators to Iran last week threatening to undo any Iran deal once US President Barack Obama leaves office.
Kerry has slammed the letter as a "direct interference" in the nuclear negotiations and warned that it could jeopardize efforts to reach a deal.
The letter was written by Tom Cotton, a first-term senator from Arkansas, who has often criticized Obama's foreign policy.
Asked whether he would apologize for the letter when he meets with Iranian Foreign Minister Mohammad Jawad Zarif on Sunday, Kerry retorted: "Not on your life."
"I'm not going to apologize for an unconstitutional, un-thought out action by somebody who's been in the United States Senate for 60-something days," Kerry said. "That's just inappropriate."
He said he would explain to Iran's negotiators and other world powers involved in the talks that Congress does not have the right to change an executive agreement.
"Another president may have a different view about it, but if we do our job correctly, all of these nations, they all have an interest in making sure this is in fact a proven, peaceful program," he added.