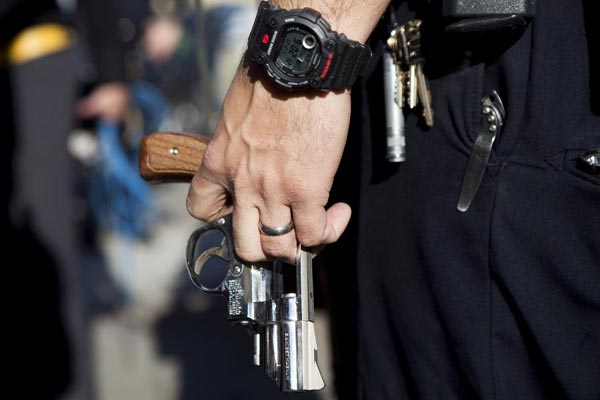 A San Diego police officer carries a Smith and Wesson revolver during a gun buy-back program in San Diego, California this Dec 21, 2012 file photo. [Photo/Agencies]
STOCKTON - An apparent drive-by shooting at a Stockton convenience store left three people dead and four wounded in what a police official called one of the worst mass shootings in the city's recent history.
Officer Joe Silva also said the shooting in the inland port city was in a crime-ridden area known for drug deals and is likely gang-related. Violence has rocked Stockton, which was hit hard by the economic downturn and declared bankruptcy in 2012.
Officials with the San Joaquin county on Wednesday said 20-year-old Aliyah Taylor and 27-year-old Arniska Lofton died in the drive-by shooting. The male victim was identified as 23-year-old Kabin Kennebrew. All were from Stockton.
Four men in their 20s and 30s were found inside the small market and taken to hospitals. The victims - ages 24, 25, 32 and 38 - are expected to survive, Silva said.
No arrests have been made, and it is not yet known if there were multiple shooters.
Police are interviewing witnesses, some of whom said they heard up to 40 gunshots. Dozens of people gathered in the area after the shooting, and additional officers were called in to help control the crowd.
Police did not release the names or any other details on the victims.
Violence is not uncommon in Stockton, which saw 49 killings last year, an increase from the year before. The city hit record numbers with 58 homicides in 2011, and 71 in 2012. In comparison, Riverside, a similarly sized city of about 300,000 people in Southern California, had 13 homicides in 2011 and 16 in 2012.
Stockton, which sits about 80 miles east of San Francisco and is a gateway to Yosemite National Park, was once an official "All-America City" before the collapse of the housing market. In the years that followed, Stockton twice led Forbes magazine's list of "America's most miserable cities."
In 2012, it became the largest US city to file for bankruptcy before Detroit made the move in 2013. Stockton emerged from bankruptcy last fall after the judge approved its reorganization plan.
At one point, the police union was so upset over layoffs and a record homicide rate that it posted billboards tracking the city's body count and disclosing the city manager's phone number.