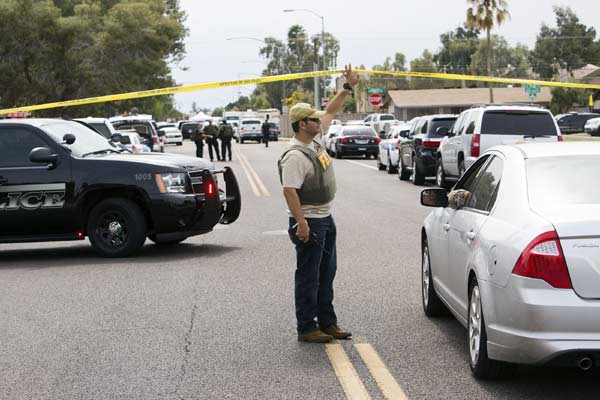 An FBI agent lifts police tape at one of the scenes of a multiple location shooting that has injured at least four people in Mesa, Arizona March 18, 2015. [Photo/Agencies]
MESA, Ariz. - A gunman opened fire inside a motel room in the Phoenix suburb of Mesa on Wednesday, killing a man and wounding two women before shooting three more people as he sought to elude an exhaustive manhunt that ended in his capture, police said.
Officers using a stun gun subdued the suspected gunman at a vacant condominium where he had taken refuge, some four hours after the initial shooting, Mesa police spokesman Esteban Flores told reporters.
"At this time we believe he is responsible for each and every one of these shootings," Flores said. Police said the motive for the rampage was still unclear but that the initial gunfire erupted following an argument at the motel.
"Everything else seemed to be random at that point," Flores said. "We believe his motive at the other locations was robbery and carjackings and just trying to get away."
Local NBC affiliate 12 News showed the man being led out of the residential complex in a white full-body suit, his wrists shackled, and taken to a local hospital.
"That is something investigators use if they're going to be protecting his clothing for evidence," Flores said of the suit.
The suspected gunman was not publicly named by authorities, but the Arizona Republic newspaper identified him as Ryan Elliot Giroux, citing a Mesa police source. A hospital official confirmed to Reuters that Giroux was treated at Banner Desert Medical Center in Mesa on Wednesday and released into police custody.
Anti-hate group the Southern Poverty Law Center, citing a retired Mesa police detective, identified Giroux, 41, as a member of skinhead and white supremacist groups who had served prison time for burglary and marijuana possession and attempted aggravated assault.