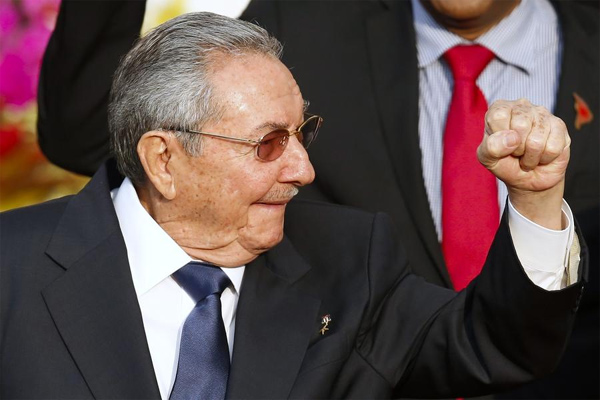 Cuba's President Raul Castro gestures during an ALBA alliance summit in Caracas March 17, 2015. Leaders of Latin America's left-wing ALBA bloc of nations (Bolivarian Alliance for the Peoples of Our America) are holding an extraordinary meeting in Caracas on Tuesday to express their support for Venezuela after Washington declared the oil-rich country a national security threat on Monday, March 9, and ordered sanctions against seven officials from the South American nation. [Photo/Agencies]
WASHINGTON - The United States and Cuba will have more discussions over restoring diplomatic relations and reopening embassies after making progress in the latest round of " constructive" talks, the State Department said on Tuesday.
Spokeswoman Jennifer Psaki described as "positive and constructive" the third round of closed-door talks held on Monday in the Cuban capital of Havana.
"The discussion yesterday was positive and constructive, and was held in an atmosphere of mutual respect," she told reporters at a daily news briefing. "It focused on establishing diplomatic relations and reopening embassies."
Roberta Jacobson, US assistant secretary of state for Western Hemisphere affairs, and Josefina Vidal, director general of the US Division of Cuba's Ministry of Foreign Affairs, led the talks in Havana.
"They certainly made progress in their discussions," Psaki said. "We believe there will be many more discussions."
The Cuban side offered few details, saying only the meeting took place in a "professional climate" and the two sides agreed to "maintain the communication."
Psaki said Washington remains open to the possibility of reopening embassies before the opening of a summit of the Americas in Panama on April 10-11.
"But you obviously have to make progress on these specific issues and get agreement on what needs to be done," she added. " Obviously, we'll continue to work on that."
US President Barack Obama and Cuban leader Raul Castro agreed in December last year to normalize bilateral relations following an enmity that has lasted for half a century.
Jacobson and Vidal met twice in January and February respectively.