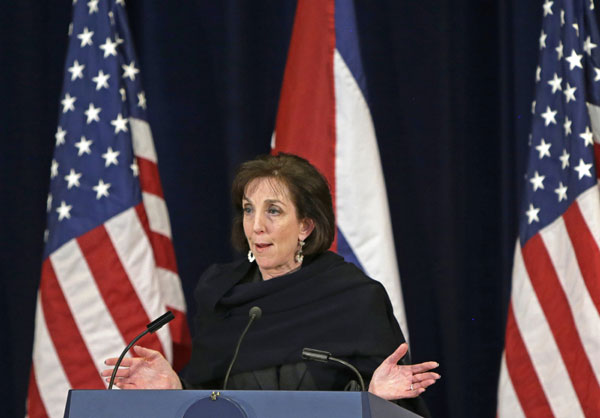 US Assistant Secretary of State Roberta Jacobson appears at a news conference during talks between the US and Cuba at the State Department in Washington February 27, 2015. Cuban and US officials held a second round of talks on Friday toward normalizing ties and both sides said they made good progress, although they did not set a date for renewal of diplomatic relations that Washington severed 54 years ago. [Photo/Agencies]
WASHINGTON - A senior US diplomat said Friday she is optimistic that the US and Cuba could open embassies before the Summit of the Americas slated for April 10-11.
Roberta Jacobson, US Assistant Secretary for Western Hemisphere, made the remarks following the second round of talks between Washington and Havana to re-establish diplomatic relations.
Josefina Vidal, head of the Cuban foreign ministry's US division, told reporters that progress had been made in the talks, but added that differences remained.
Friday's talks continue the dialogue initiated by the two sides on Jan. 22 in Cuban capital Havana and are a key step in implementing the new US policy toward Cuba announced by President Barack Obama in December last year.