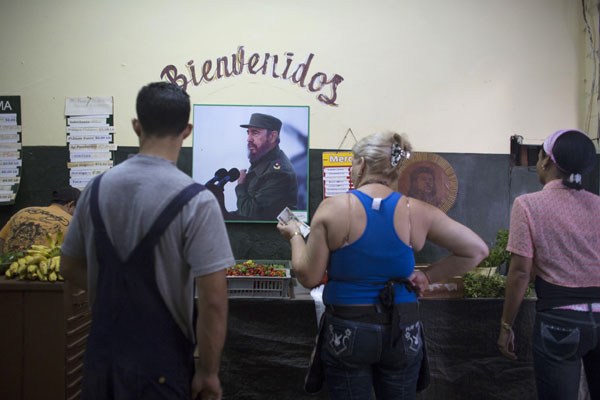 People buy vegetables as a photograph of Cuba's former president Fidel Castro decorates a wall inside a subsidised state store, or "bodega", where Cubans can buy basic products with a ration book they receive annually from the government, in downtown Havana, January 22, 2015. The United States and Cuba began historic discussions on restoring diplomatic relations on Thursday, aiming to reach agreement on the opening of embassies in each other's countries. [Photo/Agencies]
HAVANA - Retired Cuban leader Fidel Castro on Monday appeared to lend his support to Cuba's talks with the United States with a statement that addressed his longtime adversary for the first time since Cuba and the United States announced on Dec 17 they would restore diplomatic ties.
"Any peaceful or negotiated solution to the problems between the United States and the peoples or any people of Latin America that doesn't imply force or the use of force should be treated in accordance with international norms and principles," he said in a statement. "We will always defend cooperation and friendship with all the peoples of the world, among them our political adversaries."
Related: Historic US-Cuba talks shift to restoring diplomatic ties
The United States and Cuba launch talks on Thursday on restoring diplomatic relations after a contentious session on immigration accentuated the difficulties in overcoming half a century of hostilities.
The highest-level US delegation in 35 years will conclude two-day talks in Havana on Thursday, with both sides cautioning an immediate breakthrough was unlikely.
Senior US officials say they hope Cuba will agree to reopen embassies and appoint ambassadors in each other's capitals in coming months.
The United States also wants travel curbs on its diplomats lifted and unimpeded shipments to its mission in Havana.
During talks on Wednesday, the Americans vowed to continue granting safe haven to Cubans with special protections denied to other nationalities.
Cuba complained the US law promotes dangerous illegal immigration and protested against a separate US program that encourages Cuban doctors to defect, calling it a "reprehensible brain drain practice."