Using the Chinese saying, this is definitely a pair of top US scholars on China that if they claim No 2, no one dares claim No 1.
Jerome Cohen, a professor at New York University Law School and a leading scholar on China's legal system, and Ezra Vogel, a professor at Harvard University and author of the 2011 book Deng Xiaoping and the Transformation of China, were born 10 days apart in 1930, the Year of the Horse.
Both got interested in China more than a half century ago when traveling to the Chinese mainland was virtually impossible. The closest place they could go at the time was Hong Kong, then under the British rule. In fact, both were living in Hong Kong across street from each other, interviewing refugees from the mainland in a bid to understand China, then under the "cultural revolution" (1966-76).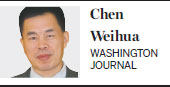 The two were later among a group of scholars from Harvard University and Massachusetts Institute of Technology (MIT) who proposed to the US administration to review its hostile China policy. It was years before Henry Kissinger made his secret trip to China in 1971.
American attitudes toward China changed dramatically in the early 1970s, when it actually became a ticket for Richard Nixon to win re-election, recalled Cohen, at a talk held Feb 18 in New York by the National Committee on United States-China Relations, an NGO set up in the 1960s to promote understanding between China and the US.
While Nixon was often credited in the US for opening China, Fred Bild, the Canadian ambassador to China in the 1990s and now an adjunct professor at the University of Montreal Center for East Asian Studies, rose from the audience and pointed out, half jokingly, that it was Canada that opened China.
It is true that Canada was one of the first Western countries to recognize the People's Republic of China. Official relations between the two countries were established in late 1970.
Cohen admitted that many in the US went to Canada to meet then-Chinese Ambassador to Canada Huang Hua, a veteran diplomat.
First visiting China in the 1970s, Cohen and Vogel have both witnessed China's great transformation in the past three and four decades. Cohen believes the Chinese government should become more confident, given the great success.
He and Vogel were not shy in pointing out that China still needs to open up further and improve in everything from rule of law to human rights.
Stephen Orlins, president of the National Committee on US-China Relations, who moderated the talk, reminded the audience that all these things should be put into perspective. He compared the situation today and the situation in 1979, when the US and China established their diplomatic ties, as "day and night".
At that time, foreigners could not travel around China freely, and even the Chinese under the rigid hukou (household registration) system, were not allowed to travel freely in their own country.
With Chinese President Xi Jinping set to visit the US again in September, both Cohen and Vogel believe that China and the US should work together to solve problems. "This is really no longer one country dominating the world," Vogel said.
At 85, the two scholars were surprisingly full of energy and a great sense of humor, as usual.
When I asked Cohen five years ago why he still worked six or seven days a week, he replied, "I bet on the horse 50 years ago when most people thought that the horse had no chance of winning the race. Now the horse is coming down the track fast. Am I going to walk away?
"It's crazy. I am having a great time," he said.
But when that story failed to appear on China Daily as promised on July 1, Cohen's birthday, I had to tell him that was because he was not a Party member. July 1 of course is the birthday of the Communist Party of China.
Contact the writer at chenweihua@chinadailyusa.com