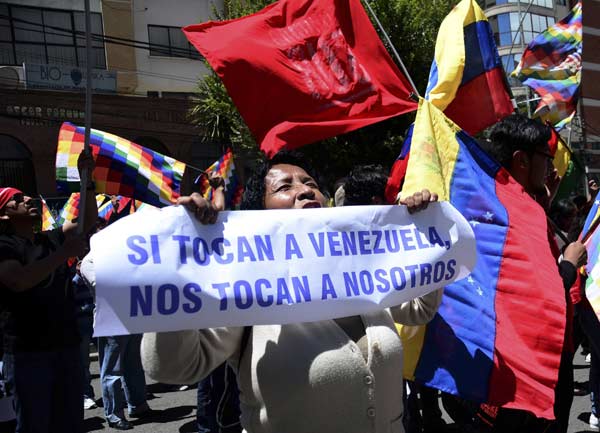 A demonstrator holds a banner during a rally against imperialism and in support of Venezuelan President Nicolas Maduro's government, in front of the United States embassy in La Paz March 12, 2015. [Photo/Agencies]
"The situation in Venezuela ... constitutes an unusual and extraordinary threat to the national security and foreign policy of the United States, and I hereby declare a national emergency to deal with that threat," Obama said.
Venezuelan Foreign Minister Delcy Rodriguez said Wednesday that the United States is laying the legal groundwork to go to war with Venezuela.
Fernando Padron, manager of an oil refinery for the state oil giant PDVSA, said Washington was motivated by oil since its crude reserves are expected to last for only another 11 years, while Venezuela is sitting on enough crude to last for the next 300 years.
"They want to take over our oil, which today belongs to the people," said Padron.
In Montevideo, former Uruguayan President Jose Mujica said he had no doubts that the United States was attempting to interfere in Venezuela's internal affairs, mainly by funneling millions of dollars to the right-wing opposition.
"I have no information or proof that the Americans are meddling, (but) since they meddle everywhere, it would be news if they weren't meddling," he said on radio program "FM Gente".
Mujica, whose presidential term ended on March 1, acknowledged that Venezuela is struggling with economic problems, but said it was a matter for Venezuelans to solve.
"Leave them alone," he said, in a message directed at the United States. "Whenever there's foreign interference it's worse. Look at what happened in Libya (and) in every other place!"