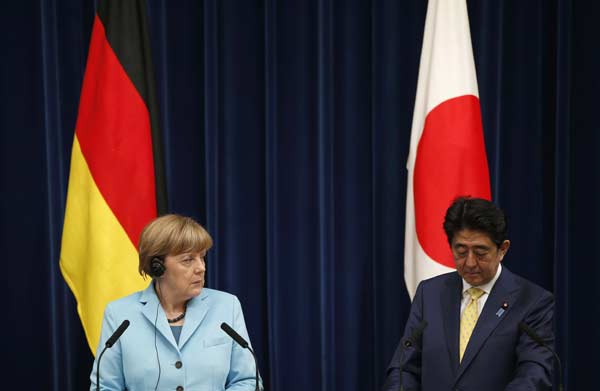 Germany's Chancellor Angela Merkel (L) and Japan's Prime Minister Shinzo Abe attend their joint news conference after their talks at Abe's official residence in Tokyo, March 9, 2015. [Photo/Agencies]
BEIJING - World media and public have joined German Chancellor Angela Merkel in urging Japan to learn from Germany and squarely face up to its wartime atrocities.
In a speech on Monday in Tokyo at the start of her first visit to Japan since 2008, Merkel reminded Japan of the need to squarely face its wartime past.
Her comments came as Japanese Prime Minister Shinzo Abe has repeatedly whitewashed Japan's war time past. He has been prepared to deliver a statement in August to mark the 70th anniversary of the end of WWII.
In an editorial Wednesday, Korea Times said that Merkel's remarks were "roundabout criticism of the Japanese leader who has been glossing over Japan's wartime atrocities," and were proof that Japan was going in the wrong direction.
Germany and Japan have a lot in common historically, "but when it comes to addressing the past, the two countries have taken glaringly different paths over the last 70 years," the editorial added.
"German leaders have repeated contrition for wartime misdeeds...On the contrary, Japan has reiterated apologies and reversals. Abe, in particular, who came into power in late 2012, has shown such regressive moves and has even denied previous apologies," it said.
The editorial also called on Japan to face history squarely like Germany, saying what is needed most now is to "rewrite a new history of partnership with its neighbors."
South Korea's Foreign Ministry spokesman Noh Kwang-il on Tuesday also urged Japan to learn from Germany in repenting its history and earning trust from neighboring countries.
"It's a historical lesson that Germany, while looking squarely into the past, has shown repentance and reflection and provided a foundation for reconciliation, cooperation and unity in the European region," he said in response to Merkel's remarks.