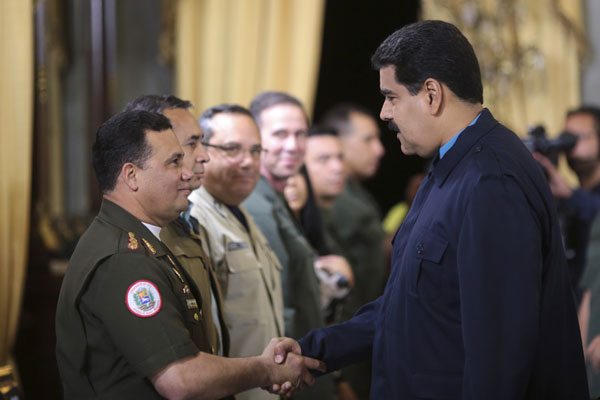 Venezuela's President Nicolas Maduro (R) greets Gustavo Gonzalez as he welcomes army members sanctioned by the US during a national TV broadcast in Caracas in this March 9, 2015 picture provided by Miraflores Palace. [Photo/Agencies]
On Tuesday, the Venezuelan president said he would ask the National Assembly, controlled by the ruling Socialists, to grant him decree powers to guarantee the "peace" of the nation and fight imperialism.
Earlier Monday, Obama also declared a "state of emergency," citing the situation in Venezuela constitutes an unusual and extraordinary threat to the national security and foreign policy of the United States, and the US will take "further steps" in its relation with Venezuela.
As counter measures, Maduro announced the reduction of US embassy personnel in Caracas, a new visa system for all American tourists in Venezuela and an "anti-terrorist" list which banned several top US politicians to enter this South American nation.
Washington said last week it would respond through diplomatic channels to these measures.
Commercial ties between Venezuela and the United States have, however, been largely unaffected by these political tensions, which were common after late President Hugo Chavez came to power.
The United States is Venezuela's top trading partner and the South American nation in 2014 remained the fourth-largest oil supplier to the United States, with an average of 733,000 barrels per day.