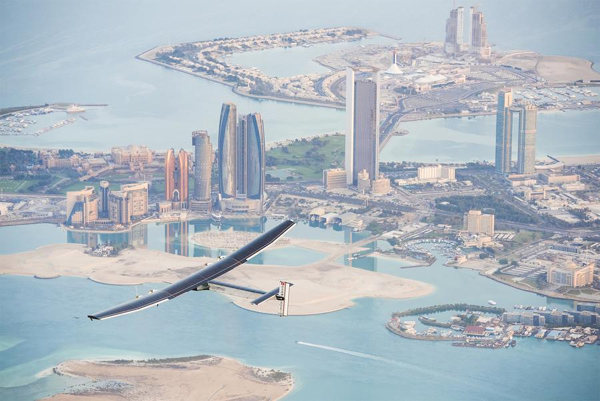 The Solar Impulse 2, a solar-powered plane, flies over the landscape of Abu Dhabi during preparations for next month's round-the-world flight, February 26, 2015. [Photo/Agencies]
DUBAI, United Arab Emirates - Just after dawn on Monday, Swiss pioneers will embark on the first round-the-world trip ever attempted with a solar-powered plane.
Solar Impulse founders and pilots Bertrand Piccard and Andr Borschberg said in a statement Sunday that they hope to encourage the replacement of "old polluting technologies with clean and efficient technologies." The flight will begin and end in Abu Dhabi, in the United Arab Emirates.
Solar Impulse was behind the first aircraft able to fly day and night without fuel, propelled solely by the sun's energy.
The Si2 aircraft that will be used in the round-the-world journey is a single-seater made of carbon fiber. It has 17,248 solar cells that supply the plane with renewable energy. The solar cells recharge four lithium polymer batteries totaling 633 kilograms (1395 pounds) each.
The plane has a 72-meter (236-foot) wingspan, larger than that of the Boeing 747, but weighs just 2,300 kilograms (5,070 pounds), about as much as a car.
Borschberg will trade off piloting with Piccard during stop-overs. Some legs of the trip, such as over the Pacific and Atlantic Oceans, could mean five or six straight days of flying solo.
The duo plan stops in Oman, India, Myanmar and China, before heading across the Pacific Ocean to Hawaii.
After Hawaii, they head to Phoenix, AZ, and New York's biggest airport, John F. Kennedy International. The path across the Atlantic will depend on the weather, and could include a stop in Southern Europe or Morocco before ending in Abu Dhabi in late July.