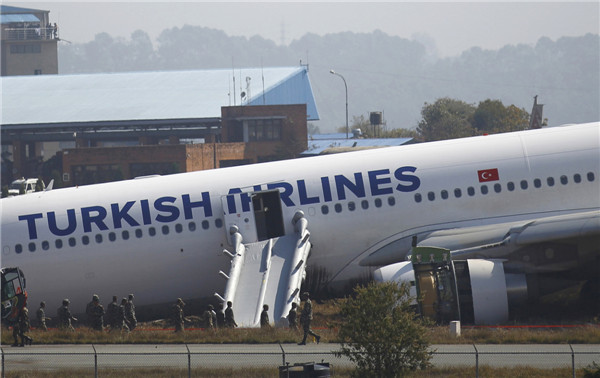 A Turkish Airlines plane lies on the field after it overshot the runway at Tribhuvan International Airport in Kathmandu March 4, 2015. According to local media, all passengers were rescued. [Photo/Agencies]
KATHMANDU - A Turkish Airlines Flight TK 726 skidded off the runway while landing at the Nepal's Tribhuvan International Airport on Wednesday morning at 8 am local time, airport officials told Xinhua.
General Manager of the airport Birendra Shrestha said all 227 passengers on board are safe. "There are no human casualties."
All passengers and crew were rescued from the emergency exit after the nose cone of the plane touched the runway when landing.
Officials said the plane touched the runway due to poor visibility.
Several domestic and international flights were affected due to heavy fog in the Nepal's only international airport following the incessant rainfall over the past three days.