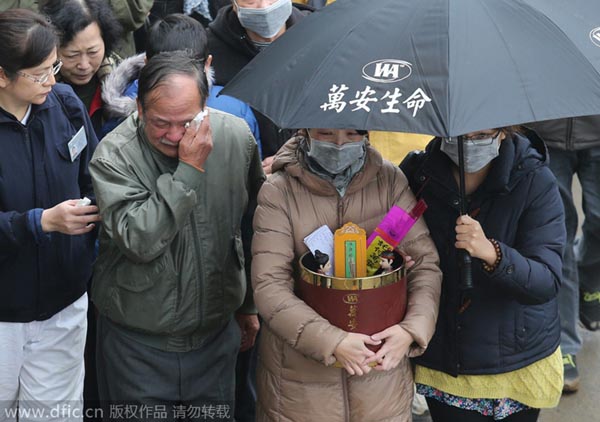 Relatives of victims of the crash which killed at least 40 people in Taipei, Taiwan, mourn the dead at the scene of the disaster on Feb 5, 2015. [Photo/IC]
Taiwan's TransAsia Airways is offering NT$14.9 million ( $473,224) in compensation to the families of each passenger killed in last week's plane crash in Taipei, Taiwan's Central News Agency reported Wednesday.
The airline held two separate meetings with families of the victims from the Chinese mainland and Taiwan in the morning to discuss the compensation issue.
But the company has pledged that relatives of those who died in the crash, wherever they are from, will receive equal compensation.
The amount of the compensation is the same as that of Taiwan's Penghu plane crash, in which record compensation was paid to families of the passengers who died.
TransAsia Airways has so far awarded NT$1.2 million to relatives of four passengers, all from Taiwan, for funeral costs. It also gave NT$200,000 to relatives of 41 passengers in emergency consolation payments.
At least 40 people, including 26 from the Chinese mainland, died after the turboprop ATR 72-600 crashed into the muddy Keelong River shortly after takeoff on Wednesday morning from Taipei's Songshan Airport en route to Jinmen.
Of the 58 passengers and crew on board, 15 were rescued.