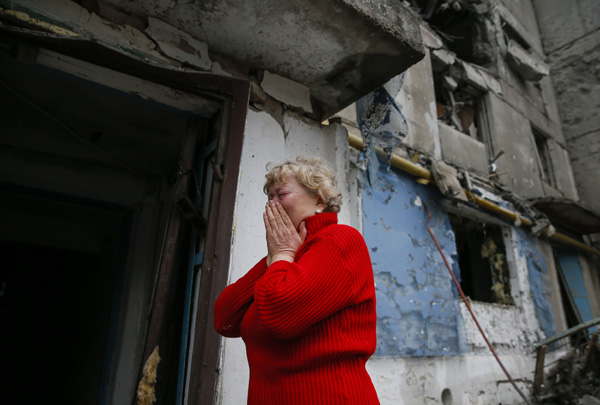 A woman reacts as she stands near a multi-storey block of flats damaged by shelling in Yenakieve town, northeast from Donetsk, February 2, 2015. [Photo/Agencies]
WASHINGTON - The United States is reconsidering whether to provide weapons to Ukraine in its fight against pro-Russia separatists, senior administration officials said on Monday, adding that no decision had been made.
"It's getting a fresh look," a senior administration official said of deliberations among Obama administration officials on whether to send defensive weapons to prop up Ukrainian forces. "Where things will end up, we don't know."
US Secretary of State John Kerry travels to Kiev on Thursday for talks with Ukraine's government, the same day NATO defense ministers meet in Brussels.
Washington already provides military equipment to Ukraine, such as counter-mortar detection units, body armor, binoculars, small boats and other gear. But it has delayed any decision for months on providing arms, from rifles to anti-tank weapons, as it sought a diplomatic solution.
However, State Department spokeswoman Jen Psaki said the United States was particularly concerned with mounting violence.