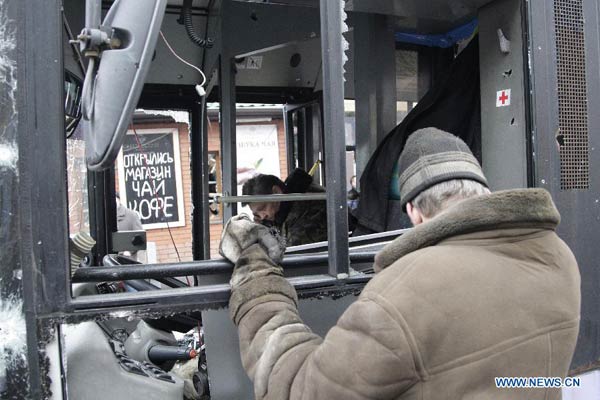 People check the damaged bus at a bus stop in Donetsk, Ukraine, Jan 22, 2015. [Photo/Xinhua]
UNITED NATIONS -- The UN Security Council on Thursday condemned "in the strongest terms" the killing of civilians as a result of shelling in Donetsk of Ukraine.
In a statement issued here to the press, the Council underlined the need to "conduct an objective investigation and bring perpetrators of this reprehensible act to justice."
The Council members also expressed their deep sympathy and condolences to the families of the victims and wished a swift recovery to those injured.
Earlier in the day at least 15 civilians were killed and more than 20 wounded when a shell smashed into a trolleybus at a public transport stop in the conflict-hit Donetsk.
The casualties came amid peace talks in Berlin between Ukrainian, Russian, German and French foreign ministers, who urged all sides involved in the conflict to cease hostilities.
In the statement, the 15-nation body "underlined the need for full implementation of the Minsk protocol of 5 September and the Minsk memorandum of 19 September, and welcomed the Berlin Joint Statement of the Foreign Ministers of France, Germany, the Russian Federation and Ukraine on 21 January 2015."
The conflict between insurgents and Kiev solders has raged for more than nine months, claiming at least 4,800 lives.